It's no surprise that technology and beauty are merging. And with the rise of the on-demand economy, it's only natural that beauty and wellness be a part of that growth. That's why Joiful was created.
Joiful is an on-demand app with a broad suite of services in the mobile beauty space including massage, men's grooming, hair care, make up and waxing, skin care, and of course, nail care.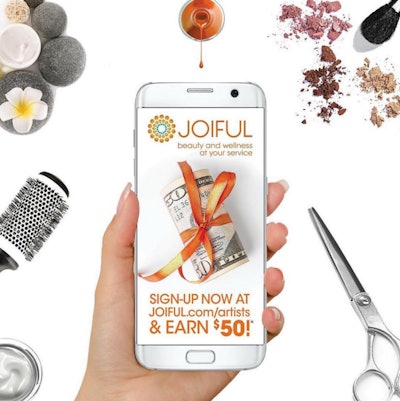 Designed to create full-time jobs, as well as freelance opportunities for nail pros, the app is flexible on purpose. As an artist, you can turn the app on in between client gaps or turn it off when you're busy. To help you stay on top of the latest trends and services, Joiful teamed up with leading brands to offer webinars and on-demand videos to help keep your skills on point.
During the official launch party in Culver City, California on February 23, NAILPRO met with Dr. Vivian B. Valenty of Dazzle Dry— Joiful's official "high performance nail color partner," she said. "Joiful has disrupted the service industry, the same way Dazzle Dry disrupted nail polish. This partnership is exciting."
For Silva Hagopian, lead educator for Dazzle Dry, the advantage of Joiful for a professional is not only the education, but also the continual support from Joiful and the nail brand. Dazzle Dry will always be available to answer any of the artist's questions, she said. Hagopain is currently collaborating with the on-demand app to create exclusive educational videos that focus on natural nail care. She reminds nail pros that there is a freelance option for extra income via the app. "You can work full-time or at your discretion, just like Uber," she said.
At the launch event, Dazzle Dry also unveiled a nail polish cart designed for resort and poolside services. The branded cart was created to hold nearly half of the nail color brand's entire collection of shades.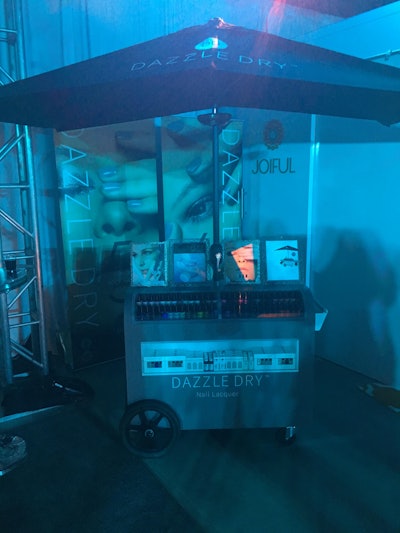 The launch party also showed reenactments of the variety of services offered including spa pedicures using Dazzle Dry's line of products.
For more information on how to join Joiful as an artist, or to treat yourself to a little pampering, download the app and visit Joiful's website.
What are your thoughts about on-demand beauty apps like Joiful? Let us know in the comments below!
-Sigourney Nuñez
[Images: Joiful, Sigourney Nuñez]