Gellipop is located in the coastal town of Redondo Beach; it's close to Los Angeles, but far enough removed to have a charming, small town feel. There's a certain relaxed, easy-going atmosphere that naturally occurs in and around the salon. Plus, the DIY aspect of Gellipop sets it apart from other salons in the area. They offer classes and group lessons, and clients can even book a party. Clients of all skill levels come in, learn at their own pace and express their creativity. In fact, I almost hesitate in calling Gellipop a salon; it's more of an art studio.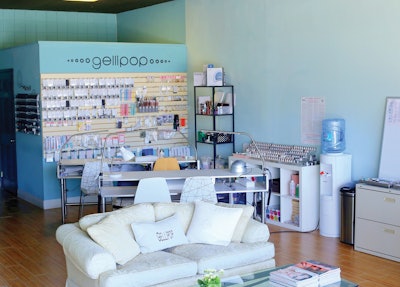 THE LOOK
The interior of Gellipop features a lot of blues, silver and modern lines. I believe that a clean, simple aesthetic is the key to a relaxing time for the client. The inspiration for the decor came from modern, hip, take-out restaurants, such
as Pinkberry.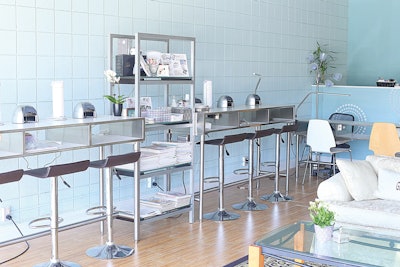 CLIENTELE
Our clientele is split between girls in high school (there is a school just down the street from the salon) and women in their 30s and 40s who have extra time on their hands while their kids are at school. Clients usually spend $20-$30 per visit and one and a half to two hours at a time in the salon. Recently, we had our first male
client! He came in because his nails were so brittle, they hurt his fingers when he typed. He ended up with a matte clear finish.
IN-DEMAND SERVICE
Our most popular service is the DIY Gel Manicure. Clients do everything themselves from start to finish! It's $11.95 for the first hour and every 15 minutes after that is $2.45. The service includes all of the glitter/hologram rhinestones that clients want. We even have Swarovski crystals and imported items from Japan available for use. Our clients absolutely love the creative freedom that they have in this service. We also cater to the nail professional with education. Experienced techs or those just starting out can come in and hone their skills or add to their repertoire. In addition to standard classes, we offer certification classes and private workshops.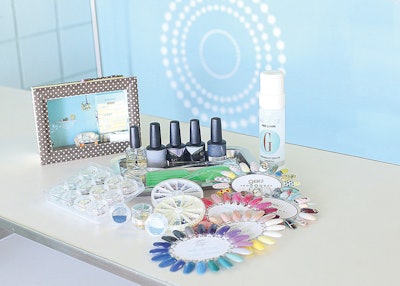 THE GOODS
In the salon we use Akzéntz, Artgenic and Presto. We chose these brands because they are 100 percent gels and are free of solvents. They're also odorless and include many high-quality colors. Additionally, we retail to professionals. We sell tools, such as brushes and lamps, as well as the large assortment of gels we carry. Our best-selling product is Akzéntz Shine On top coat gel.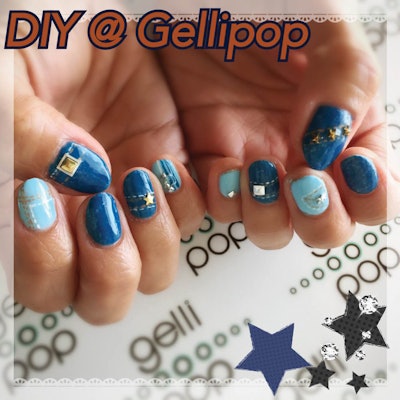 SOCIAL MEDIA
Instagram is our most successful and interactive social media channel. The simple concept of sharing pictures or short videos is perfect for a visual business like ours. It's amazing how much feedback and participation we've garnered since we started using social media. Not only are we connected to clients and potential clients, it's also a great way to connect with other salons and techs that have a similar vision. We all inspire each other and that's a great way to keep things fresh.
PRAISE
For me, there's nothing like seeing a client's face light up with pride and accomplishment. I love hearing that she's happy with her nails, and you can see how proud she is that this was a product of her own effort.
ADVICE
The most important piece of advice I can give is to be original. It's essential to be different from other salons, especially in your area. Don't put profits first; sharing knowledge and tools is much more crucial. Also, be patient and always put in maximum effort (the results will come). And lastly, have fun!
Gellipop Fast Facts:
Owner: Yuriko Alette Hoshina
Year Opened: 2012
Address: 1926 S. Pacific Coast Highway, #114, Redondo Beach, CA 90277
Phone Number: 310.683.0991
Hours of Operation: Tue.-Fri., 10 a.m.-
6 p.m.; Sat., 11 a.m.-5 p.m.
Website: gellipop.com
Images: Yuriko Alette Hoshina