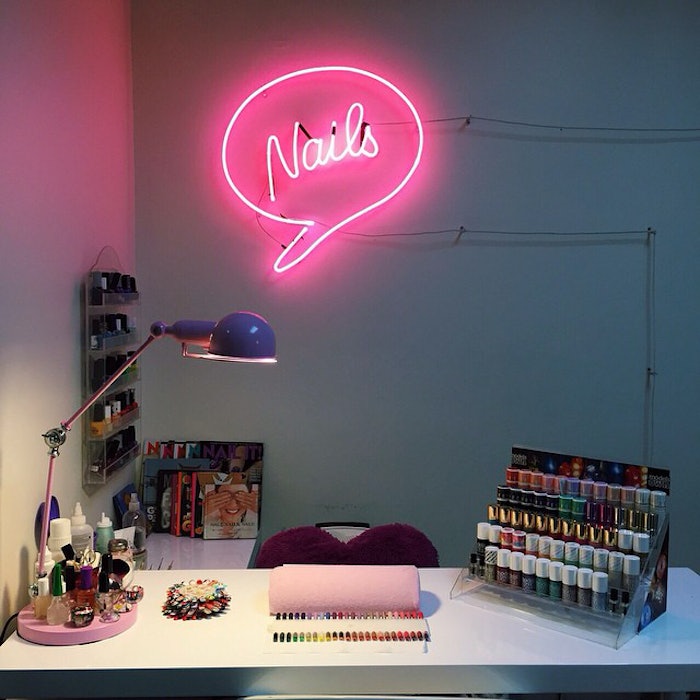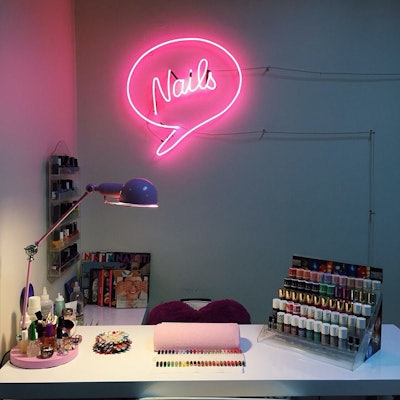 The décor in your salon is an important element. If your clients like the style of your place, they'll be more apt to trust you with the style of their nails. Get design ideas from these nail artists who have incorporated unique elements into their salons and studios.
[Above image: @velenporella]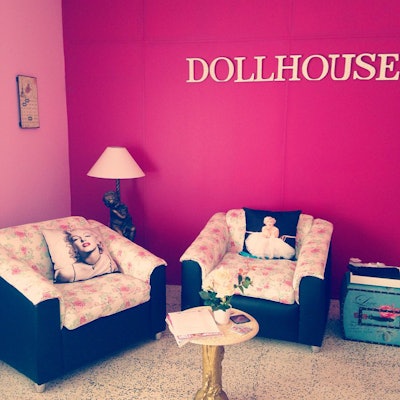 Dollhouse Nail Art Studio in Paraguay has vintage details: Marilyn Monroe pillows and shabby chic rose side table.
[Image: @dollhousepy]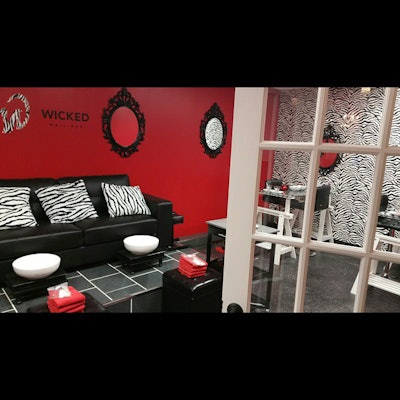 Wicked Nail Bar has animal print everywhere! Shown above is their Little Diva room, especially designed for their young clients ages 4-10.
[Image: @wickednailbar]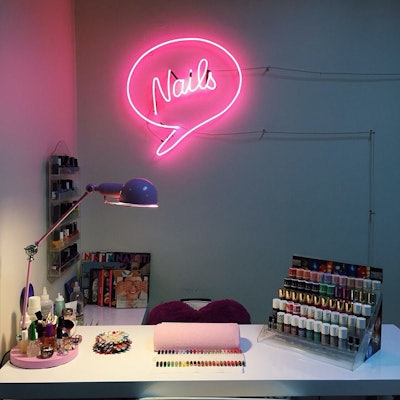 Belén Flores Núñez has this adorable "Nails" neon sign behind her table!
[Image: @velenporella]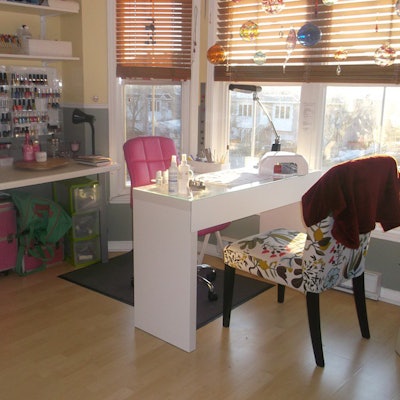 Isabelle P. Racine has blown glass balls that catch the light from outside and bring a splash of color into the room!
[Image: @onglesparisabelle]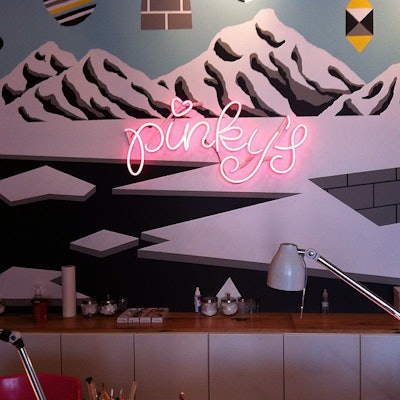 Pinky's Nails in Toronto has its own name in neon!
[Image: @pinkysnails]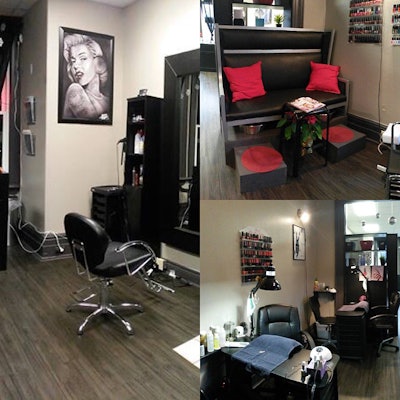 This salon channels the 1950's with red and black décor – and roses alongside their pedicure station!
[Image: @paaigeesweeneey]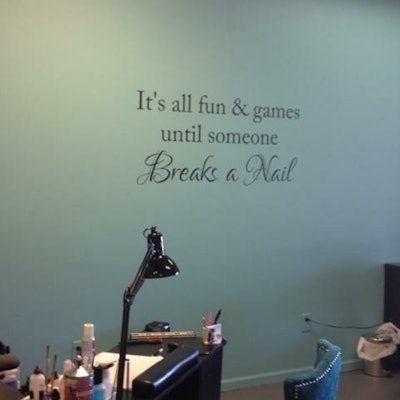 Serenity Hair and Nails has this cute quote on their wall.
[Image: @divanailz1]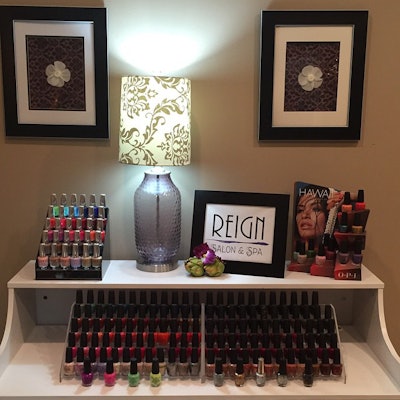 Reign Salon & Spa has an amazing OPI station!
[Image: @tonyasnailspot]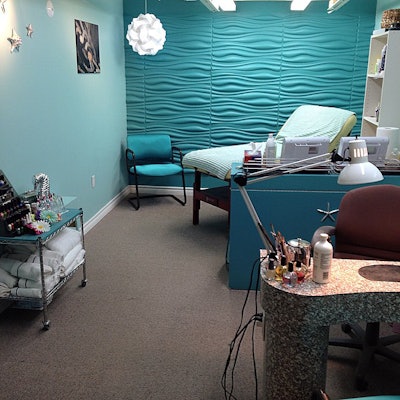 Summery teal, a wavy textured wall and starfish emblems!
[Image: @nail_designs_by_lori]

Pretty pastels and vintage signs at The Dolls House salon.
[Image: @alishiasnails]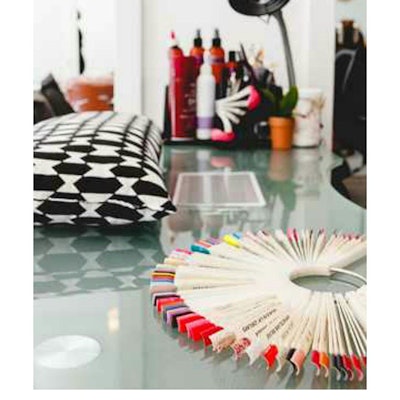 Things are sleek, clean, and organized at the Pin and Tonic Salon.
[Image: @thenailtherapist]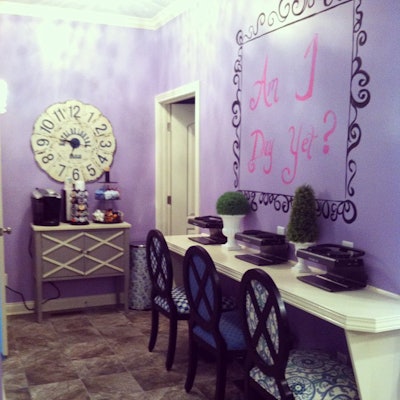 Swooning over this "Am I Dry Yet?" sign by the nail dryers at Reality Break Nail Salon.
[Image: @jaderenaeh]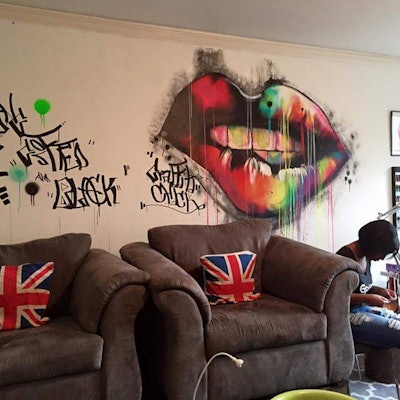 Nail tech Lauren Boyd painted this mural herself at Graffiti Nail Bar in Memphis!
[Image: @graffitinailbar]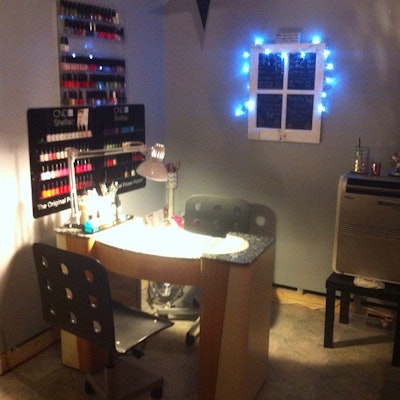 A little light around the service menu chalkboard!
[Image: @polishedbymel2014]

Chic pedicure bench at Manicuring Dreams by Jeannie!
[Image: @manicuringdreams]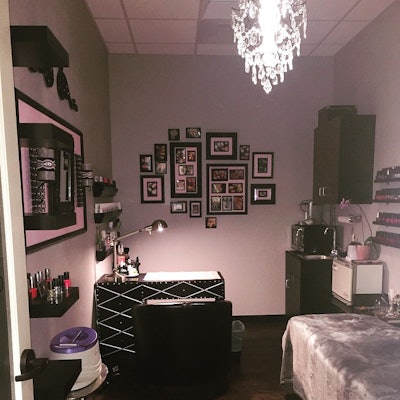 A collage of framed nail art inspiration is perfect to add above your table.
[Image: @cosnowgirls]

Front door sign for One Love Nails.
[Image: @onelovenails_]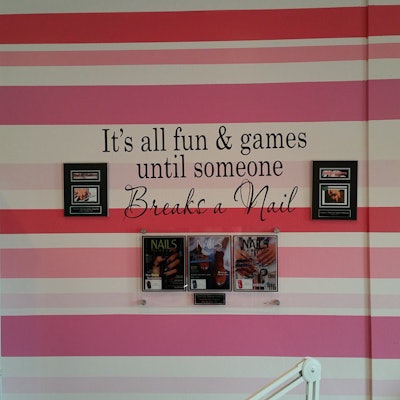 Love this pink and white striped wall.
[Image: @denisedoesnails]

Quirky details: a deer head, flamingo, and pineapple.
[Image: @thenailguru]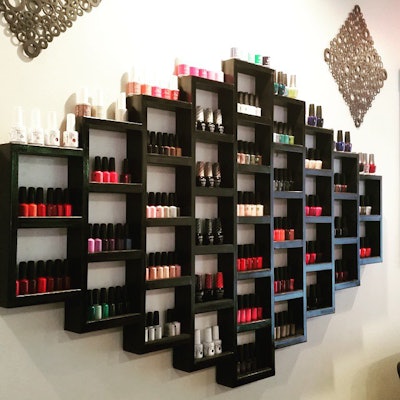 Crazy amazing polish (and gel) rack!
[Image: @hkylene87]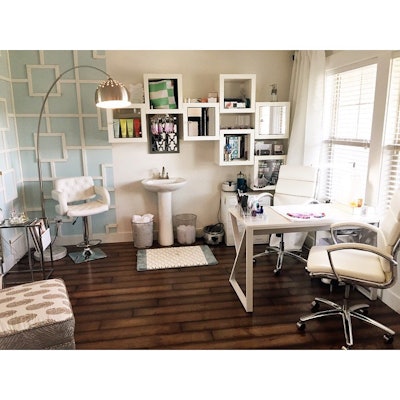 Sherrie collaborated with designer Danielle Robinson (@lakecityloft) to get this look!
[Image: @sawartanddesign]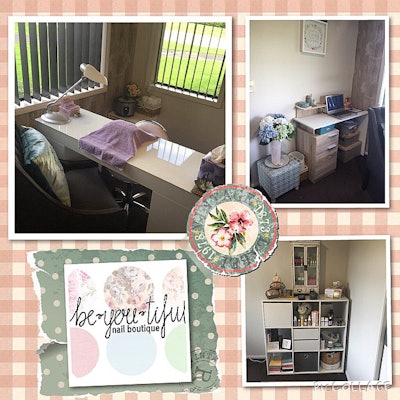 The shabby chic look at BeYOUtiful Nail Boutique
[Image: @beyoutifulnailboutique]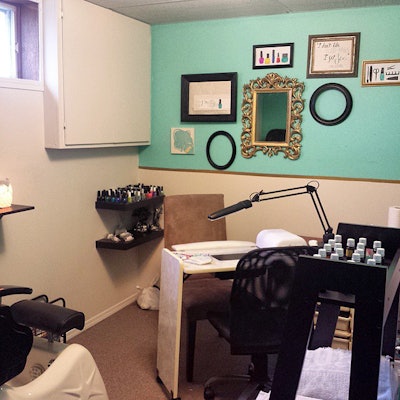 Fancy frames!
[Image: @pretty_fingertips]

Shoe-shaped polish rack
[Image: @_ellec]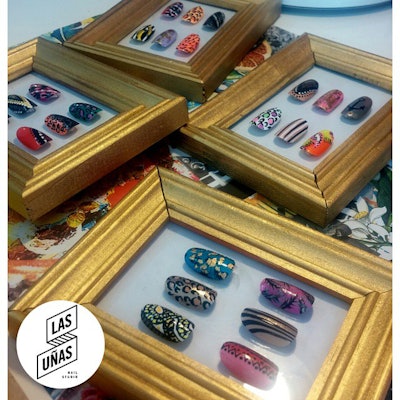 Frame your tips so clients know what you can do!
[Image: @estoeslasunias]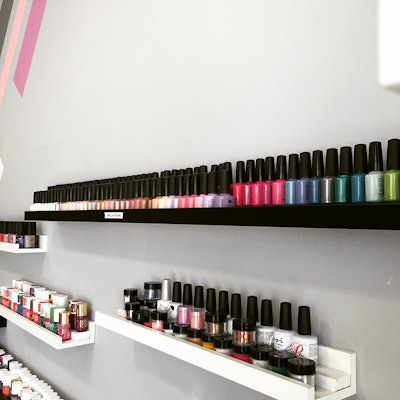 Here's an easy way to store polishes and other supplies! You can find racks like these at Ikea.
[Image: @kayciekyle]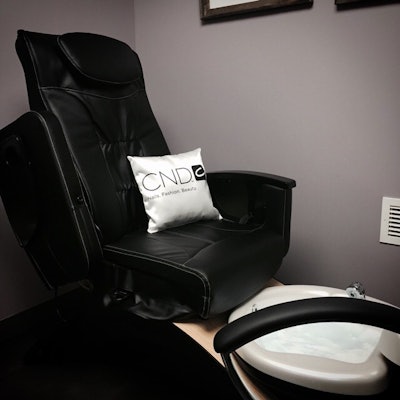 The perfect spot for a CND pillow! Crystal Warner of Crystal's Nails at Salon Lofts in Grove City is a CND Education Ambassador.
[Image: @mysnailsandme]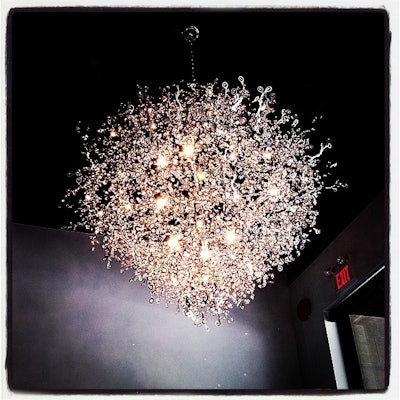 Opulent chandelier at Studio Sixty Six
[Image: @sarah_studiosixtysix]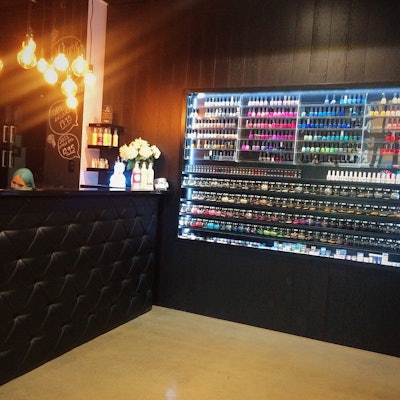 Illuminated nail rack at Adore Dolls Parlour.
[Image: @nicole_adoredolls]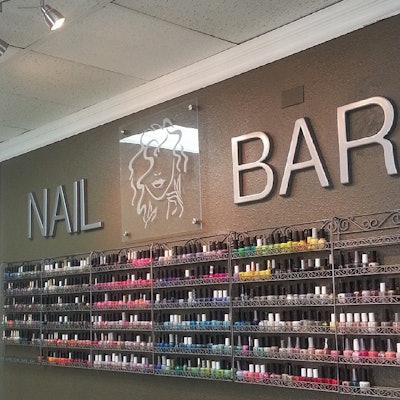 The wall of color at Nail Bully Nail Bar.
[Image: @nailbullynailbar]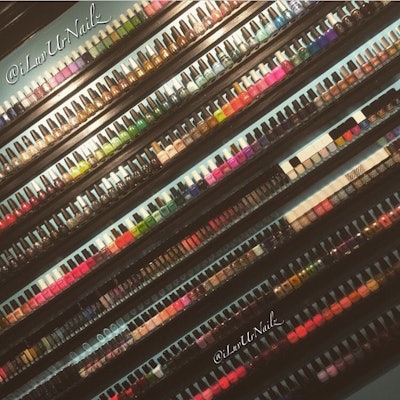 The endless wall of color!
[Image: Of @iluvurnailz's studio, photo by @stylesbymyia]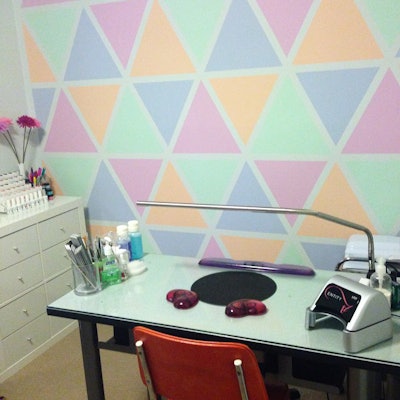 Artsy wall!
[Image: @jannibananinails]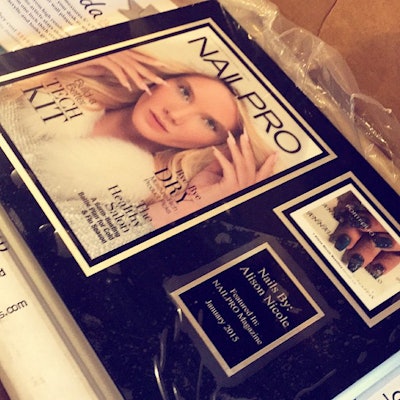 Alison framed her nails from NAILPRO's Portfolio section.
[Image: @annailco]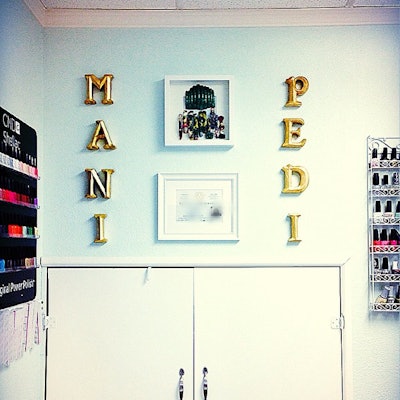 Gold lettering!
[Image: @nails.by.letty]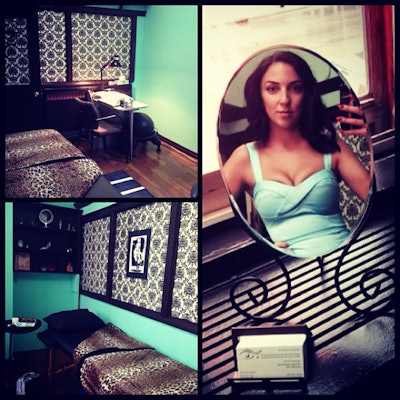 Damask wallpaper over at The Polished Pinup Parlour.
[Image: @thepolishedpinup]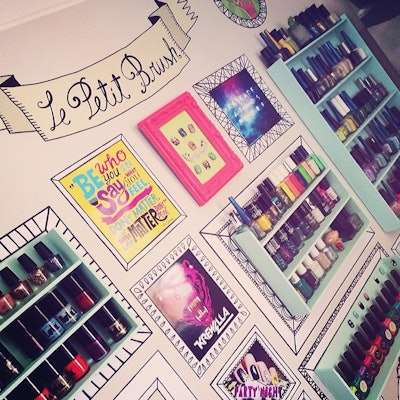 The Le Petit Wall
[Image: @lepetitbrush]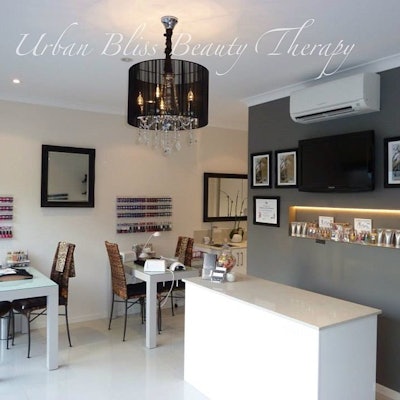 Complete elegance at Urban Bliss Beauty
[Image: @urbanblissbeauty]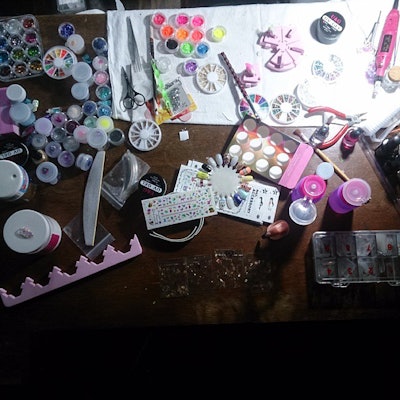 A stockpile of nail art supplies!
[Image: @nineowa]

Lexi Martone has her own logo sticker above her table.
[Image: @leximartone]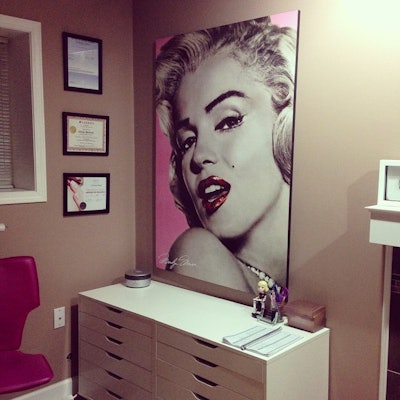 More Marilyn Monroe! Score Chelsea's same blonde nail tech business card holder in the Beauty Etc. Store (shown at the bottom left of the painting).
[Image: @chelseas_nails]