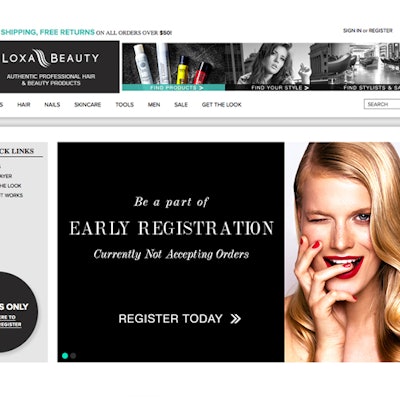 If you've been wishing that you could receive a commission for all those online purchases your clients make, your wait is over. Introducing Loxa Beauty, an e-commerce website that specializes in selling salon products to consumers while supporting salons and techs through an online sales commission. And starting now, you can preview the website, LoxaBeauty.com.
"Loxa Beauty was created to extend the salon shopping experience beyond the stylists' chair," says Janell Shaffer, Founder of Loxa Beauty. "We bridge the gap between the salons/stylists, clients and professional beauty products. By awarding a commission on every sale, we are able to keep the stylist at the center of the shopping experience."
In a nutshell, LoxaBeauty.com connects techs with their clients—online. With more than 3,000 authorized salon brands, including China Glaze, Morgan Taylor, Paul Mitchell, Joico, CHI and others, there's not any of the overhead, startup cost, or fees that are associated with retailing products in salons. What's more, you have access to a variety of online tools, including customizable profiles, apps to create recommendations from the site's list of products, and much more.
"I would explain Loxa Beauty to other stylists as a partner, someone you can use to help your clients get the best service possible," says Will Turpin, a Loxa Beauty stylist member. "Loxa Beauty provides a virtual retail shop and gives me the opportunity to recommend the products I want to my clients."
Support from manufactures provides a distribution channel that offers salons and techs a way to better compete in the online consumer retail space. Consumers often purchase products from unauthorized sites, leaving the manufacturer and the salon out of the purchase. Loxa Beauty, along with key manufacturer support, created Loxabeauty.com to remove that obstacle.
"We're thrilled at JOICO to be part of Loxa Beauty. Finally, there's a website that offers everything for the 'beauty obsessed' consumer! Videos, how-to's, before and afters", said Sara Jones, Sr. V.P. and General Manager of Joico and ISO Brands. "Loxa Beauty connects consumers to the professional salon industry in a unique and engaging way. Consumers will love the high-quality information that Loxa Beauty will provide, along with the convenience of online shopping, which will directly profit their chosen salon and/or stylist. We feel this will be a great opportunity for JOICO to build brand awareness and deepen our connection with our customers."
Additionally, there are no contract commitments, plus techs and salons can create their own customizable pages, which includes a full profile, photos, reviews and a virtual salon. Want a preview of the site? Visit loxabeauty.com and request access. You can also visit the site's YouTube page for demonstration videos.