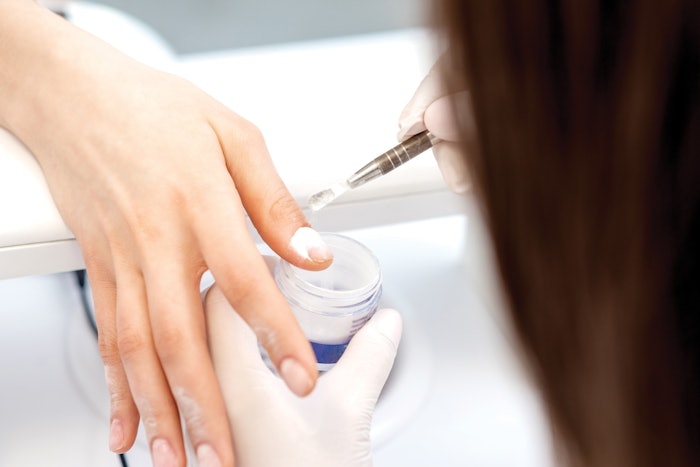 Dip nails are hardly a novelty—they've been around for decades—but the benefits for both clients and techs have made this service a lasting one.
"Dip powder remains popular with many clients because of the fact that it gives them the strength of acrylic, applies in half the time and is just as versatile for designs and nail art," opines Emma Luu, Revel Nail educator.
Clients with sensitive noses tend to prefer dip services as well, making it a good alternative to those who desire strong enhancements minus the monomer odor.
"The dip nails category in particular remains strong because there's no odor and clients are still looking for reinforcement," confirms Darlene Sritapan, OPI North America education and capability manager.
Clients who shy away from UV/LED light usage and e-files may also be drawn to the service, Luu says, citing that most dip nail services forego light usage and can be completed using a hand file. 
Considering these benefits, dip services could be a worthwhile addition to your menu. Here, what those new to dip nails need to know and what veterans to the service should brush up on.
Dip Newbies
If you're interested in expanding your offerings with dip services or you recently took up the "powder nails" mantle to satisfy growing demand, you'll want to know these best practices, removal tips and product 411 to guarantee service success.
What to Look For
Just as with any nail service, you'll want quality products that ensure lasting, consistent results. Check the consistency of the powder.
Powder should be "free flowing," says Luu. "This is crucial because it allows for an even and clean application, which can shorten service time since it cuts down on buffing and filing."
Read the activator cure time. "When you look at dip systems, they generally use a similar application process, but the activator cure time can vary, which will affect your application," says Sritapan.
Seek out vivid pigments, says Vu Nguyen, Gelish dean of education, but always make sure the pigment is well blended for consistency.
What to Be Wary Of
Though cost isn't always tied to quality in nail products, Luu warns that cheaper dip brands will sometimes use an inferior polymer filler to boost their formulation.
"While this lowers the price, it also lowers the quality of the product and the final manicure," she says.
Check that the brand discloses its ingredient list on its packaging, says Katie Clifford, ibd brand manager.
Also, be aware of the jar size. "I would stay away from jars that are too small for longer nails," says Nguyen.
Dip Into Best Practices
If it were as simple as just dipping a nail into some powder, you're clients wouldn't come to you for the service. There's an art to dipping, and it begins with these best practices.
Consider temperature: After practicing on nail tips (which you should do!), pay attention to your surroundings. "Understand that once you apply dip nails on a customer, heat will accelerate application time. Body and room temperatures as well as environment will impact curing times, too," Sritapan says.
Use thin layers for your base coat: "Working with thin layers of base coat prevents the dip powder from becoming too thick or uneven when dipping the nail, minimizing filing time later once the dip powder has been activated/cured," says Clifford. Because base coat will start to dry as soon as you apply it, Nguyen recommends brushing over your very first stroke again to re-wet the area. "This allows the powder to absorb more evenly," he says.
Never flood the cuticle: "The first layer of base coat should only cover half of the nail and shouldn't touch the cuticle until the final coat," says Clifford.
Mix dip powder with a stick before using: "This creates the most accurate and even color pay off on every single nail," says Clifford. Because ingredients and pigments used to create dip powder have varying weights, heavier shimmers and glitters tend to sink to the bottom of the jar.
Don't cross-contaminate activator with the base and top coats: "When you have activator on the nail and then brush base or top coat over it, the activator can start curing the brush," says Nguyen. To avoid this, wipe the brush on a lint-free wipe after each nail. Sritapan notes that by waiting the allotted activator time according to the manufacturer's instructions, you can prevent brush hardening in the first place.
Use minimal brush strokes when applying top coat: This prevents over-working the product, which leads to matte spots. "If you still get matte spots, use a shine buffer to rid the nail of any minimal matting," Sritapan says.
Remove Like a Pro
Dip removal is an art form. Always inform clients of the importance of resisting picking and peeling off the product, which Clifford reminds will damage the natural nail. Professionals should be the ones removing dip nails to keep the integrity and health of the nail intact; be sure to make this point known during the service.
When you're removing dip nails, always follow the manufacturer's instructions for soaking the nail in acetone.
Then, "don't push the product off," warns Sritapan. "Use a file to help roll off the product."
Avoid the urge to use an orangewood stick or pusher. "As the product gets really gummy, it will stick to your file and you won't come into contact with the natural nail," Sritapan explains.
The simple fact is: Dip is acrylic and it will remove like acrylic. "If you try to push off dip like you would gel polish, it can pull off the natural nail—and we want to avoid that," Sritapan says.
Nguyen likes to use heat to help the removal process. "It speeds up the process. You can use a warmer or heated mitts—whatever suits you," he says.
Dip Veterans
You've been playing the dip nails game for a while now, and you're thirsting to provide your dip clients with something more from this service. Here, our pros breakdown what your next steps should be when working with this popular service.
Keep On Learning
Just because you jumped on the dip nails train early doesn't mean you don't have more to learn.
"A lot of dip services I see on Instagram are still coming out really chunky," laments Sritapan.
She champions the "80, 90 and 99 rule" for extensions, plus avoid applying base coat all the way to the cuticle area. "If you're doing a nail tip overlay with clear dip, apply the first coat over 80 percent of the nail, the second coat over 90 percent and the third coat over 99 percent. If you're working on natural nails, work at 90 to 99 percent," she says.
These methodologies ensure the cuticle area doesn't bulk up, which in turn prevents you from needing to "de-bulk" the extensions.
How do you know you need a refresher in this technique? "If you have to use an e-file to de-bulk, you're likely applying too much product," Sritapan relays.
Karie L. Frost is a freelance writer and editor based in Connecticut.
This article was originally published in Nailpro's January/February 2021 magazine.