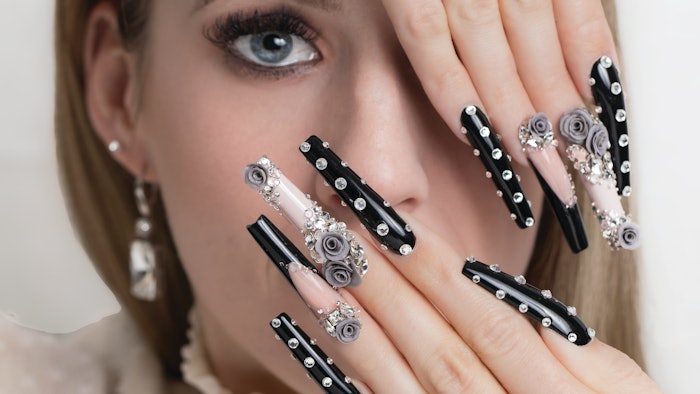 For clients who are looking for an OTT set of nails to ring in the New Year (because who isn't ready for this year to be over?), Ugly Duckling master educator Chrystacle (@chrystacle) shares this stone-encrusted design. At the core, it's fairly simple, with a base of ebony and ivory, punctuated by a couple of French nails—which is what makes this look so versatile. Keep it effortless with a few embellishments or pile it on with sculpted roses and tons of Swarovski crystals, as seen here. Customize with color and stone placement to create a look that fits each and every client.
How To Recreate This Look
1. Prep the natural nail as usual. Double up on tips to create extra-long nails or apply forms to the nails to sculpt.
2. Prime the nails before applying acrylic, gel or a hybrid tube gel (like Ugly Duckling Velveteen Acrygel) to create the base of the nails.
3. To create the French, apply pink acrylic (Chrystacle used Ugly Duckling Nails Fufu Pink) for the elongated nail bed and then apply black acrylic for the free edge. Cap the nail with clear acrylic.
4. File and shape the nails.
5. Apply black gel polish to the finished filed nails. Cure after each layer of gel polish.
6. Add small dots of gem gel to the black nails to create vertical lines. Make sure to stagger the dots to create a pattern for the bling.
7. Apply clear crystals over each dot of gem gel, and fully cure.
8. Apply top coat to seal around the crystals, and cure.
9. For the other embellishments, start with the largest elements first, like the 3-D roses and pointed-back crystals, and fully cure. Apply smaller amounts of gem gel it to fade out the bling from around the larger embellishments.
10. Once you are happy with the placement of all the embellishments, finish with no-wipe top coat to seal the exposed gel polish and around all the crystals. Cure.