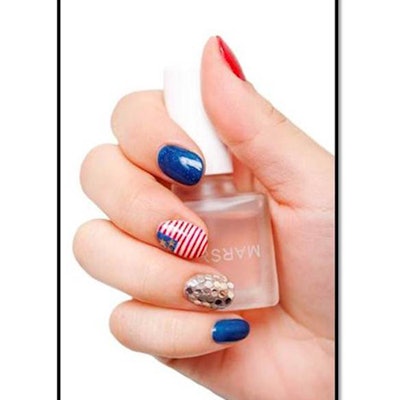 Spoil your clients with a festive July 4th mani anyone will love. Hiroko Fujikawa of West Hollywood's MARS the Salon demonstrated how to create something simple and sparkly.
Step 1: Prep your nails by filing them to your desired shape and apply a base coat.
Step 2: Apply two coats of red polish to your thumb.
Step 3: Apply two coats of blue polish to your index and pinky fingers. For added sparkle, use a polish with glitter.
Step 4: Apply two coats of white polish to your middle finger.
Step 5: Using nail glue, carefully apply silver rhinestones to ring finger. You can also try a silver glitter.
Step 6: To create the American flag on your middle finger, use a precision art brush to draw a small box at the lower right corner of the nail. Fill in with blue polish. Next, clean the brush with remover and dip it into silver polish to draw on small stars. Clean the brush again and then dip into red polish to create small horizontal stripes.
Step 7: Apply a top coat to all your nails to seal and add shine.
[Images: Alex Sclavos/MARS the Salon]