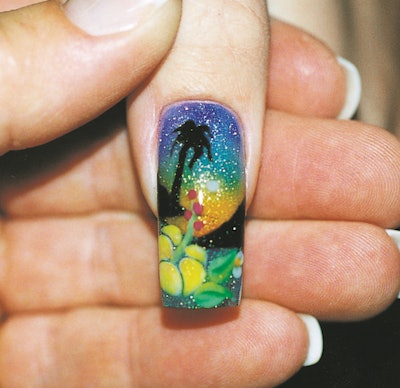 Perfect your acrylic designs and create even more amazing work! Click through to see 6 tips for working with colored acrylic. »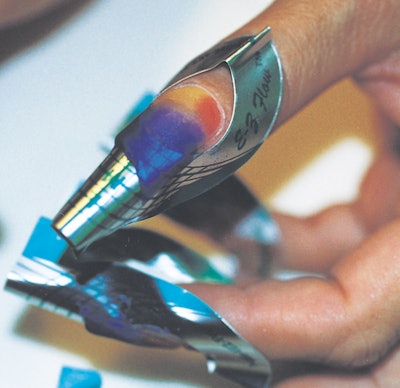 Tip #1: You can apply colored acrylic in one of three ways, with three different results.
1.)    If you want a 3-D look, first apply a thin base of clear acrylic, or a clear powder with glitter. Once that is dry, create your design on top and let the design dry before covering it with a thick later of clear acrylic.
2.)    You can put your main colored design straight on the natural nail, let dry, and cover with acrylic.
3.)    Begin with a colored ombre-like base. Add your design on the tip in the foreground and cover with clear acrylic.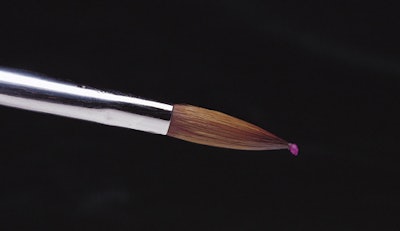 Do: small balls of product.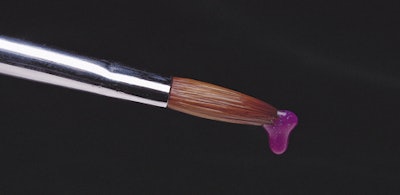 Don't: Huge globs of product.
Tip#2: Work dry, using very small balls of product and a perfectly tipped nail application brush. A small nail art brush won't give you the right liquid-to-powder ratio. Working wet will make the colors inconsistent and the colors will bleed as the extra monomer spreads. Place the small, dry ball of product where you want it and let it settle. Be sure to wipe your application brush well as the ball is settling, leaving no liquid in the belly of the brush and wiping the brush to a pointed tip Work with the tip of the brush to push the product into place. Make edges with straight sides – just like a cookie cutter – making sure the product is dense enough but not too high.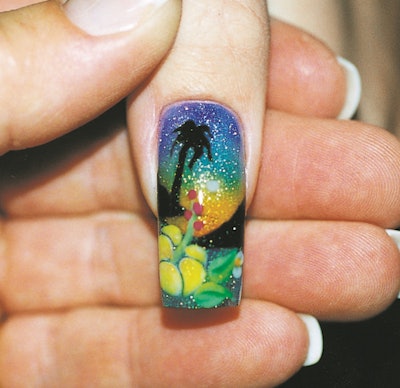 Tip #3: Mixing a light green with a dark green to get different shades of green for leaves isn't always the best way to do. Because many manufacturers create light colors with a mix of darker colors and clear powder, mixing the dark color and light color can make the pigment separate slightly from the clear powder, leaving uneven coloration. You may want to test your brand of acrylic and colors before using this method on a client. Otherwise, you can try mixing your own lighter shades of colors my mixing dark hues with white acrylic powder.
Don't: Too thick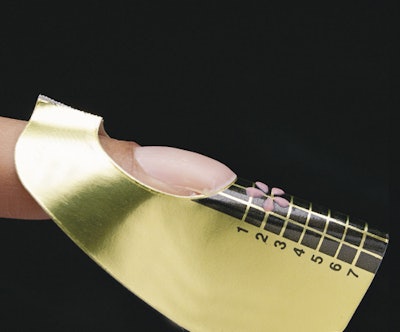 Do: Just right!
Tip #4: Although you want your designs to be thick enough that they are opaque, you want to avoid making them too thick. If you are creating a landscape or design that will require multiple colors – like an ocean with a palm tree in the foreground –  rather than layering the palm tree color over the ocean, leave a blank space in the ocean for the palm tree, so the entire design is the same thickness.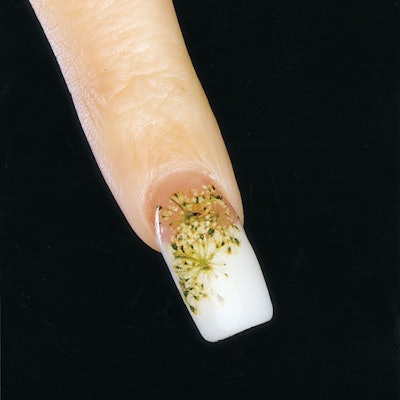 Tip #5: When encasing shells or charms, apply a base layer of acrylic, then embed the object in the wet acrylic. Try not to pick a charm that is too thick, and work with a wet consistency so the acrylic will dry to a smoother finish.
Tip #6: Do not place designs or objects too close to the edge, since you need a good seal at the edge to prevent lifting.
 
[Images: Magic Lantern/Sheryl Macauley]