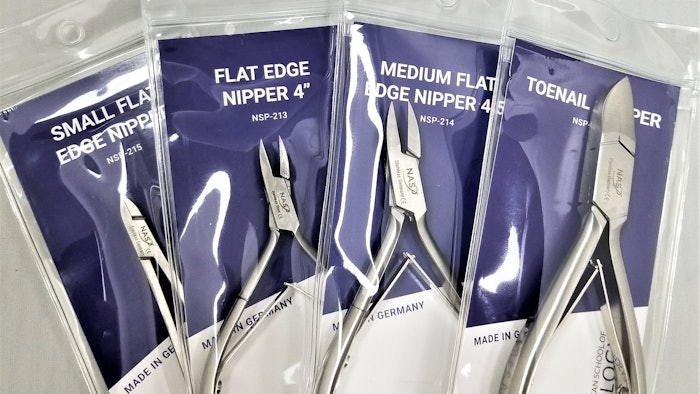 Courtesy of North American School of Podology
The North American School of Podology (NASP) has released concave toenail cutters and flat edge nippers in new packaging.
The NASP provides quality instruments known for precision, performance, longevity, reliability and quality. It is dedicated to providing advanced foot care education to pedicurists, nail technicians, aestheticians, cosmetologists and foot care nurses. 
The new packaging is resealable, made to keep instruments safe.
NASP Concave Toenail Cutters
S

pecifically crafted for cutting toenails

The ergonomic shape is ideal for controlled cutting of even the thickest toe nails with sharp, curved blades capable of making detailed smooth cuts.

The safety lock prevents injury and allows for safe storage while the nonslip grooved texture on the handles allows for a comfortable grip. 
NASP Flat Edge Toe Nail Nippers
Comes in three sizes: small (scissor style), medium and large (spring)

All have an ultra fine pointed head with sharp, straight blades to give a detailed and smooth cut to the nails.

Ergonomically designed for precise cuts and narrow pointed edges able to reach into tight nail walls and removal of the spicula.

The scissor flat edge is ideal for controlled cutting of cuticles.