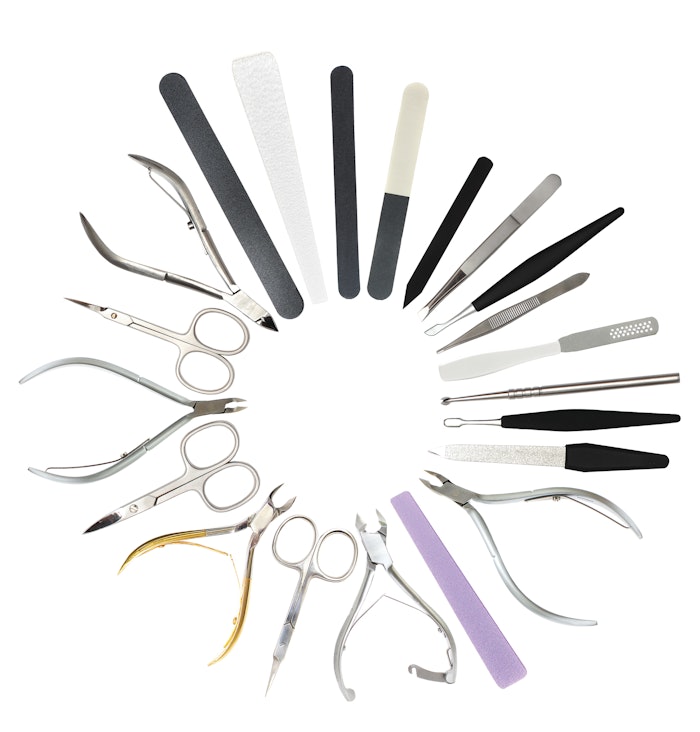 No matter your skill level, understanding the fundamentals of maintaining your tools are just as significant as knowing how to use them. Regardless of how often you use your tools—from tweezers and nippers to scissors and clippers—it is crucial to keep them in tip-top shape (your next shape may depend on it!). NAILPRO gathered three nail professionals to discuss the importance of caring for these implements and share their pointers on how you and your tools can stay sharp.
You know that with any job, having the right tools help, but having those that are high quality and ready to use make it even better. With the delicate, precise work you must perform on your clients' nails, the frequent usage of your implements can wear them down. Jaime Schrabeck, Ph.D., licensed manicurist and owner of Precision Nails, states, "While other products are meant to be disposable (nail files and gloves) or consumable (gel polish and acetone), quality metal tools represent an investment because of their importance and repeated use in our services. If we do not care for tools properly, we compromise their performance and shorten their product lifespan, wasting the initial investment no matter how much was spent."
Gloria Williams, veteran nail technician and owner/creator of Footnanny products, agrees, "You want to take good care of your implements because it is a major investment in your business. You want to purchase from a company that provides some type of warranty on the life of your implements."
Amy Ling Lin, the founder of sundays studio in New York City, adds that it is a matter of safety, "When tools are not sharpened properly, you can cause harm…It will be hard to cut, and you will take much longer to do so, which may extend your appointment time. If nail clippers are not sharp, you have to bend it, and apply more force than needed."
Continue reading about the number of nippers and clippers you might want to have; proper cleaning, storing and sharpening techniques; considerations when choosing your tools; and more tips from our pros in the September/October 2021 issue of our digital magazine.