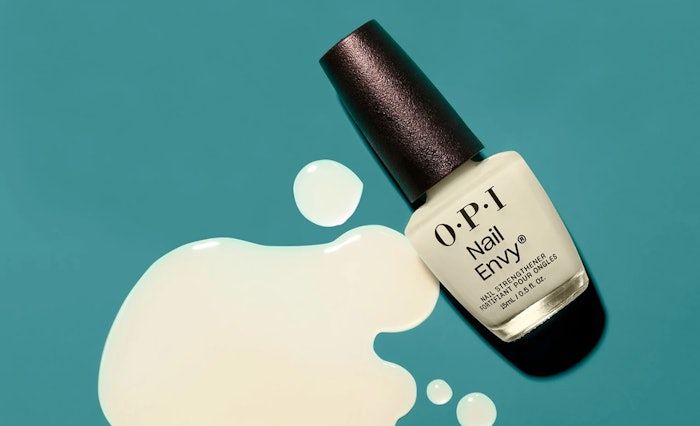 Courtesy of OPI
OPI is transforming the nail care category by announcing a breakthrough innovation, Repair Mode with Patented Ulti-Plex Technology.
It's the first-ever bond-building nail serum of its kind. Moving beyond temporary surface-level strengthening, Repair Mode penetrates and absorbs into the nail to deeply repair 99% of keratin protein and build 4x stronger nails in just 6 days.
Revolutionary Repair Mode is an essential step to restoring natural nails to their optimal condition. Patented Ulti-Plex Technology biomimics the protein structure of the natural nail to repair nails from within unlike anything else on the market to date. OPI challenges fans to completely reboot their nails by using Repair Mode twice a day for six days. In less than a week, nails are restored with 99% keratin repair. Wearing Repair Mode on naked nails for less than a week allows consumers to get back to strong nails, so they can showcase the hottest nail colors, innovative treatments and biggest trends without concern. The serum's active ingredients penetrate the nail to build new bonds, creating stronger, smoother and repaired nails. Repair Mode also protects nails from the effects of daily living with 94% protection from damage to keratin protein in just six days. Repair Mode can also be worn under Nail Lacquer or GelColor with two coats. 
"Nail damage happens through daily activities like washing our hands, cleaning, and showering, which break down keratin bonds. Treating nail damage is one of the biggest consumer needs with the lowest product satisfaction," explains Sarah Fairneny, Vice President, OPI Research & Development. "Our goal was to revolutionize nail care for weak and damaged nails and to combat everyday damage, by developing a technology that could repair broken bonds from inside the nail."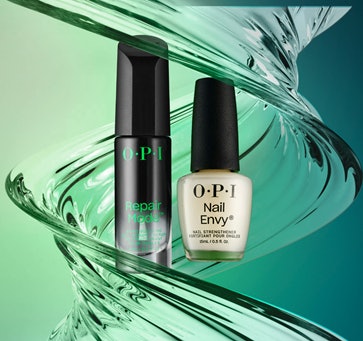 "Until now, nail strengthening products typically worked by reinforcing the nail with polymer film formers, creating a protective coating over the top of the nail. As soon as the product is removed, so are the strengthening effects," continues Fairneny. "Ulti-Plex Technology penetrates into the nail, building bonds within the damaged keratin to restore and protect. Similar to how Plex products have revolutionized hair care, Repair Mode is a breakthrough for the nail treatment category. With Repair Mode, fans can experience their natural nails, restored to their natural condition in just six days." 
OPI's bestselling Nail Envy Strengthener is also getting an upgrade with a new and improved vegan formula and six new colors. Featuring Tri-Flex Technology, the exclusive proprietary polymer coats the nail surface creating a liquid shield that reinforces the nail with layer-building strength. The new and improved Nail Envy provides advanced strengthening for 95% stronger nails in just 1 week. The formula also includes biotin, vitamins A, C, E and calcium to nourish nails. Nail Envy strengthens and protects nails against breaking, chipping, peeling and splitting for beautiful, stronger natural nails. After just one week, 98% of consumers agreed nails felt nourished and 94% agreed nails looked instantly improved, including filling in ridges.
Nail Envy fans now can have the new and improved strengthening formula and color in one. Nail Envy Color includes a range of eight sought-after shades suitable for all skin tones. Six new colors, including two of the most popular OPI shades, Alpine Snow (white) and Big Apple Red (red), and four new exclusive Nail Envy hues, with names that evoke strength, Powerful Pink (shimmer pink), Tough Luv (dark red), All Night Strong (dark blue), and Double Nude-y (neutral) join the existing two Nail Envy colors Pink to Envy (rose tint) and Bubble Bath (pink). 
Together Repair Mode and Nail Envy complete the new OPI treatment range for beautiful, strong and healthy natural nails. Repair Mode and Nail Envy are 9-free, vegan formulas with no animal-derived ingredients or by-products, and both are clinically tested and developed by nail scientists. Repair Mode is recommended for damaged nails to help maintain nails in optimal condition. It should be applied twice daily, once in the morning and once at night, for six days. Nail Envy is suggested for all nail types, including weak, thin, soft and cracked nails. To use, apply once per day for six days, with two coats on nails for the first application and one coat on nails for the following five days. For beautiful, healthy natural nails, use Repair Mode first to repair nails, then apply Nail Envy to maintain strength and protection.