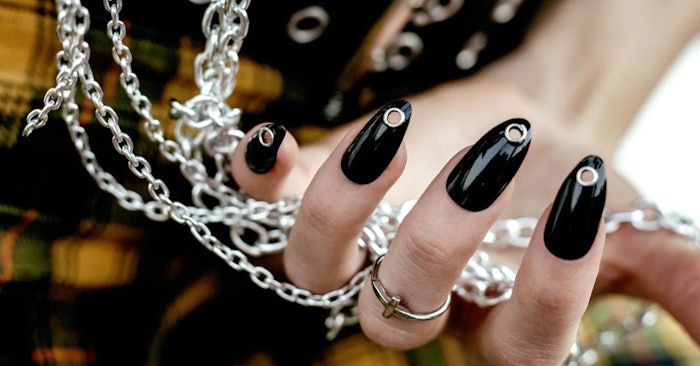 With temperatures dropping and winter weather here to stay, bold, moody nails are reigning supreme
Channel the gothic winter nail trend with designer press-on nails from Rave Nailz.
Hand-designed by celebrity nail artist Braelinn Frank, each unique set from Rave Nailz takes on a different gothy mood, from matte witchy nails to ombre stiletto potion-inspo nails to cast spells and steal hearts this Valentine's Day.
Holey Nailz - Handmade with gothic detail. Classic stiletto shape in jet black with a gloss finish. Holes are hand-drilled in each nail with a silver grommet in place to finish. These are 3D and handmade, so handle with care!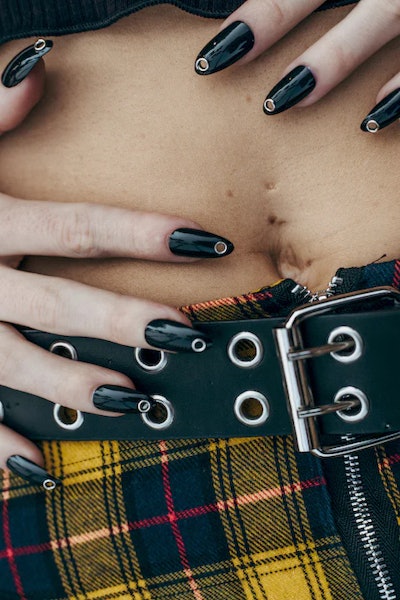 Potion Nailz - Matte, nude to black ombre long stiletto press-on nails each with a unique design hand-drawn by Frank. The drawings feature popular potion ingredients - moon dust, magic mushrooms and feathers, to name a few.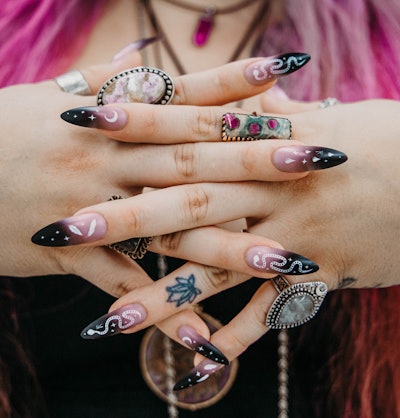 Pierced Up Nailz - Matte black stiletto nails including four accent nails pierced with silver hoops. These long-lasting nails are sure to impress.
Each set includes 24 nails in a full range of sizes, so one set fits most. Each set includes nail glue and one nail file.
How to Apply Press-On Nails from Rave Nailz:
1. Remove nail polish and buff natural nails with the provided nail file.
2. Apply one to five drops of nail glue onto your natural nail. More glue = longer wear.
3. Carefully align the false nail to your natural nail, then press and hold for 10 seconds. 
Follow us on Instagram and subscribe to our free daily newsletter to recieve the latest news for nail professionals.