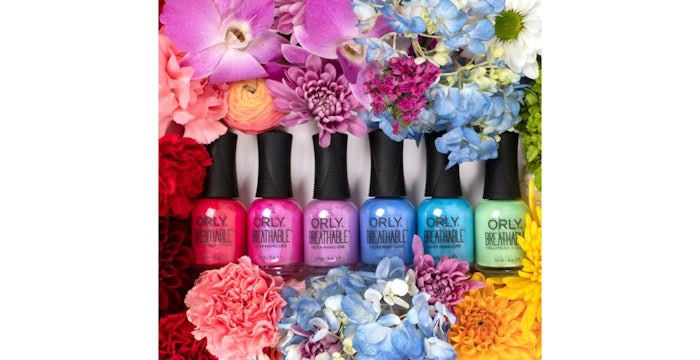 Vibrant flower petals are not the only pops of color making an appearance this spring and summer. Donning lively nail colors is our favorite way of embracing the long-awaited warm weather.
What is the easiest way to rock springtime shades this year? Reach for a bottle of polish from Orly's latest collection. The Super Bloom collection from Orly was inspired by an "oversaturated garden wonderland" and includes shades of coral, periwinkle, lilac and sky blue.  
The Super Bloom Collection includes:
She's A Wildflower—a shimmering pink shade
Here Flora Good Time—a shimmering green shade
Orchid You Not—a shimmering lilac shade
Downpour Whatever—a sky blue crème
All Dahlia'd Up—a shimmering coral shade
You Had Me At Hydrangea—a shimmering periwinkle shade
Each shade retails for $9.99. The polish formula is vegan, cruelty-free, made in the United States and formulated without harmful ingredients. Also, the breathable polish can be applied in one step with no base coat or top coat required.