Courtesy of Cirque Colors
It's back and badder than ever. Cirque Colors' annual limited edition Vice 2023 Collection features six wicked neon nail polishes, with three returning shades and three brand-new shades.
With an eye-searing crème finish and UV black light effect, they cause trouble all day and night. But they're not totally de-baucherous – this collection is the first to include Cirque Colors' new 100% post-consumer recycled (PCR) plastic cap and wide brush.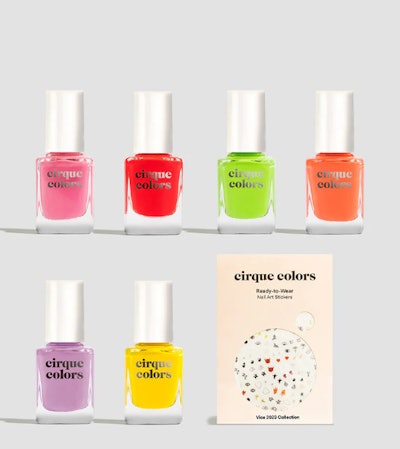 The set includes the following créme polish colors: 
Shopaholic: neon highlighter pink
Klepto: limited edition neon digital lavender
C.R.E.A.M.: limited edition pastel neon lime green
Hedonist: limited edition true primary neon yellow
Rumor Mill:  limited edition neon coral
Game Over: neon red
Cirque Colors' neon polishes are custom-formulated to be worn without a white base color and its UV reactive properties mean it glows under black light. As always, their crème polishes feature a smooth, high-quality formula for ease of use and long-lasting wear.
The collection is available for purchase on Cirque Colors' website www.cirquecolors.com.