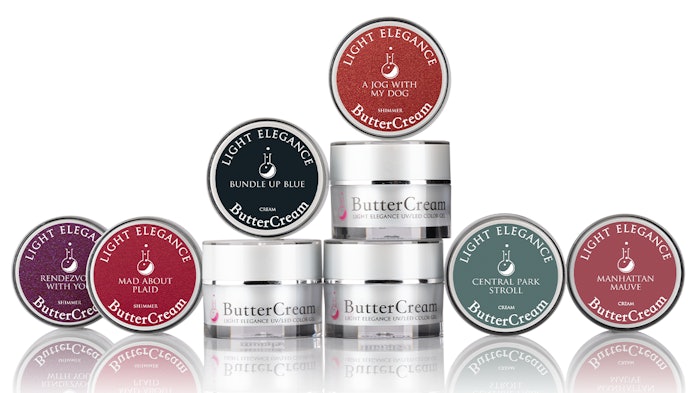 Courtesy of Light Elegance
Light Elegance has debuted its fall 2022 A Walk in Central Park ButterCream collection.
Light Elegance is a leading innovator of 100% HEMA-free professional-grade UV and LED gel nail products and acrylic nail systems.
Lezlie McConnell, co-founder and co-owner of Light Elegance, says, "As always, in the process of creating A Walk in Central Park, we took a deep dive into fall fashion trends. Looking at the fashion trends for fall 2022, plaid is it! When we think of plaid skirts and scarfs, we think of reds, purples, coppers and beautiful mauves, all of which we have incorporated into A Walk in Central Park. There is not a better place to see and wear plaid than sophisticated New York City's Central Park during fall, and we could not be more delighted to have created this palette with so many great on-trend color combinations to work with."
There are six shades in the A Walk in Central Park ButterCream collection:
Rendezvous with You: a rich plum mixed with tiny pieces of fuchsia sparkles
Mad About Plaid: a red raspberry with a subtle pink shimmer throughout
Central Park Stroll: a muddled teal with a creamy gray undertone
Manhattan Mauve: a muddled pink-mauve neutral
A Jog with My Dog: a rusty red with a fiery gold shimmer
Bundle Up Blue: a deep, dark navy blue that almost looks black
This collection will be available to salon customers Friday, Aug. 26, 2022.