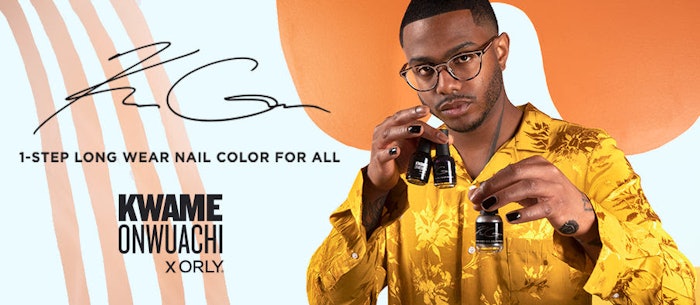 Courtesy of Kwame Onwuachi x ORLY
Kwame Onwuachi, an award-winning chef known for expressing himself through food, has partnered with ORLY!
Through the partnership, the two have released a limited-edition Breathable 1-Step Manicure collection that takes Onwuachi's creativity beyond the kitchen.
"I got into doing nails four years ago when my nieces asked me to go with them for a manicure, and I have been getting them done ever since," said Kwame. "Just like I express myself through food in the kitchen, style is how I express myself everywhere else, and a well-groomed nail with a sleek color is a part of that."
Colors in the collection include:
Eggplant: a

 deep purple shade of eggplant with a slight masculine touch and shimmers to mirror the versatility of the vegetable itself.

Chef's Kiss: 

Onwuachi's signature color; a creamy black was Onwuachi's first manicure—a nod to his roots, this versatile shade goes with everything.

Saute: T

he kitchen is his home and temple, and this metallic silver is a cool callback to the fast-pace kitchen.
"It was important to me to find a partner that, like me, thought out of the box and had exacting standards," said Kwame. "For someone constantly washing their hands, the Breathable formula, which prevents water logging and is resistant to chipping, peeling, and cracking, matched everything I was looking for. The high quality matches my demanding expectations, and most importantly, the versatile colors celebrate style in and out of the kitchen."
Onwuachi and Orly have agreed to have proceeds from the collection go to Big & Littles NYC, a nonprofit group that provides one-on-one mentorship to children to help them succeed. 
The collection launches March 15, 2022, and will be exclusively available on ORLYbeauty.com.