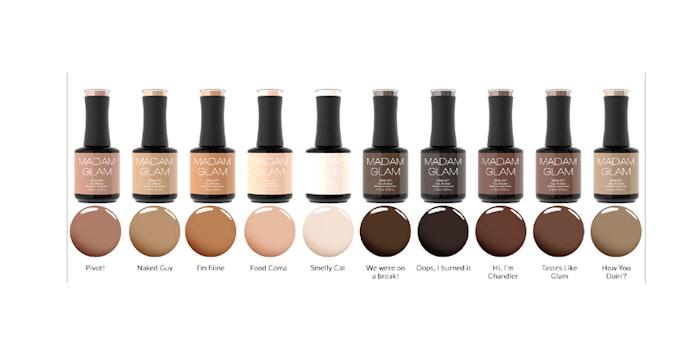 Courtesy of Madam Glam
Madam Glam has created a new nude color collection called Friends and Family for the cooler seasons.
Inspired by the American sitcom FRIENDS, the nude collection features a pigmented cream formula with a neutral palette of pink, broken up with cool touches of taupe, brown and burnt-orange shades. 
"There is a nude manicure or neutral nail art design for everyone. The secret? Finding a color with an undertone that suits your skin tone. While the search for the perfect nude gel polish is seemingly endless, when it comes to defining the ultimate barely-there hues, our Friends and Family Collection will be your perfect match!" says Lauren Hoehn, Madam Glam brand ambassador.
The colors in this collection of soak-off gel polishes are named:
Pivot!

Naked Guy

I'm fiiine

Food Coma

Smelly Cat

We were on a break!

Barista

Hi, I'm Chandler

Tastes Like Glam

How You Doin'?