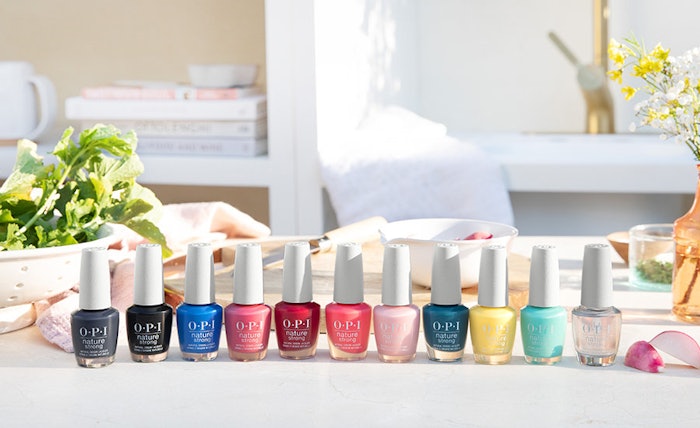 Courtesy of OPI
OPI has launched its Nature Strong Collection, for those who do not want to choose between natural and high performance.
The Nature Strong Collection has 30 shades inspired by nature and a Top Coat for added shine and protection.
The new collection features a brand-new formula of natural, plant-based ingredients derived from sugar cane, manioc, wheat, potatoes and corn. 
Nature Strong offers long-lasting, highly pigmented color with a high-shine finish that stays on for up to seven days without fading. Not only does it apply easily and dry quickly, it can be removed with lacquer remover.
All 30 shades represent colors that can be found in nature. 
OPI has teamed up with The Vegan Society, the oldest and original vegan organization in the world. By including The Vegan Society trademark on packaging and assets, it provides confidence about the vegan credentials. 
The 30 shades in the Nature Strong Collection are:
Dawn of a New Gray—A soft misty gray
Strong as Shell—A bold crème white 
We Canyon Do Better—A soft nude pink    
A Clay in the Life—A pale clay neutral
For What It's Earth—A vibrant orchid pink
Intentions Are Rose Gold—A lustrous rose gold
Raisin Your Voice—A bold and shimmery burgundy
Give a Garnet—A rich garnet red 
Thistle Make You Bloom—A shimmery hot pink
Emflowered—A petal pink coral 
Force of Nailture—A deep charcoal blue
Onyx Skies—An almost black onyx crème   
Shore is Something—A bright ocean blue 
Once and Floral—A bright gerbera pink
A Bloom with a View—A bold rosy red
Big Bloom Energy—A carnation pink   
Let Nature Take Its Quartz—A pale rose quartz pink    
All Heal Queen Mother Earth—A rich crème teal 
Make My Daisy—A bold daisy yellow
Cactus What You Preach—A bright desert turquoise    
Eco-Maniac—A deep plum purple 
Knowledge is Flower—A dusty crème rose
Simply Radishing—A radiant, radish-inspired pink
Right as Rain—An almost lavender gray
A Great Fig World—A bold crème purple
Achieve Grapeness—A shimmery purple grape    
Natural Mauvement—A pinky purple pastel    
Spring Into Action—A pastel lavender 
Raindrop Expectations—A cool white with rainy blue undertones 
It's Ashually OPI—An ash gray