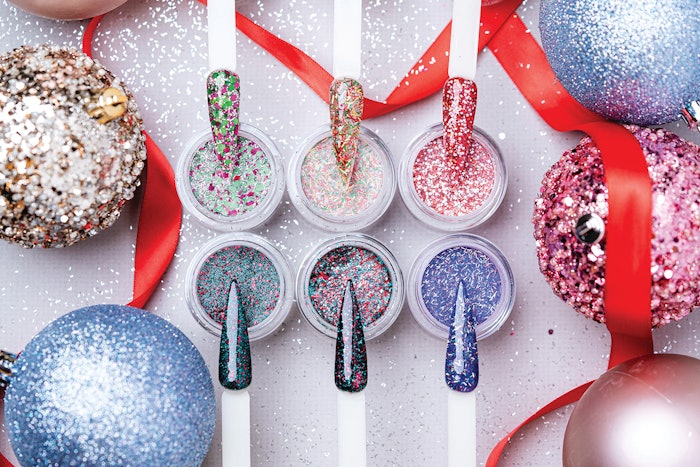 From long-awaited gatherings with friends to starting new family traditions to turning the calendar page at the start of a new year, this holiday season is giving us much to look forward to. Amid the joy of the season, there is often pressure to give loved ones the perfect gift. We have taken the guesswork out of your year-end gift-giving with this holiday gift guide. Here is to less stressing and more dashing through the snow.
Cool Yule
Give your salon and clients' nails a makeover just in time for 2022 with this roundup of trendy salon furniture and must-have holiday goodies.
Luraco Pro-40K
This holiday season, gift yourself the ability to achieve precision nail services with the Luraco Pro-40K TRUE BRUSHLESS. The high-torque handpiece, with user-friendly controls, makes it easier for nail techs to craft their skills and the low noise level helps keep the customer stress-free. The drill is available in eight colors, including Silver, Gold, Rose Gold and Black and limited-edition Red Marble, Blue Marble, Maroon Alligator and American Pride. luraco.com
Deck the Halls Dip Powder
Add a little shimmer to your clients' holiday parties with holiday drop-ins from Revel Nail. The collection, Deck the Halls, includes six different shades filled with glitters, confetti stripes and foil pieces. revelnail.com
Essence Pedicure Chair
Bring a minimalist, elegant setting for your pedicure room with the Essence Pedicure Chair from Belava. The chair was created to swivel and recline while an ergonomic cushion on a heavy-duty round base utilizes a hydraulic pump. The chair is also available with optional built-in heat and vibration features. The Essence chair can be paired with the Balance Foot Rest and the Trio Foot Spa. belava.com
Peacci Christmas
Peacci Christmas contains six best-selling opulent shades that will make any manicure sparkle for the holidays. Choose one color for all your nails, or use it for nail art. These polishes have long-lasting results and are highly pigmented. us.peacci.com
Americanails Signature Mini White Buffers
Available in 50-count packs, Americanails Signature Mini White Buffers come in a 1.5" x 1" size, perfect for comfortable one-time use. The ultra-premium signature mini white buffer is intended to be used per client to ensure proper sanitation. americanails.com
Le Rêve
Le Rêve Pedicure Spa from Continuum Pedicure Company is a quality-built, feature-rich pedicure spa. Wrapped with a sleek, modern aesthetic, Le Rêve's welded steel frame provides exceptional strength and durability. continuumpedicure.com
Warm Up Those Mistletoes
During the winter months, keeping clients warm and toasty during a pedicure appointment is one seemingly small detail that will help set you apart from the competition. In addition to keeping things cozy, Pedi-Sox, which should be slipped on right before the toenails are painted, can help fully absorb and lock in the products used in pedicure treatments. Ranging in a variety of fun prints, these socks are a great appointment add-on and make excellent gifts for clients and employees alike. originalpedisox.com
Mani Miracles
Any nail pro will tell you that cuticle oil is the secret weapon in a client's at-home nail care arsenal. One such oil looking to shake up the nail care routine is the Miracle Fruit Seed Oil Nail & Cuticle Oil Treatment. The product contains miracle fruit seed oil, which is derived from the Synsepalum dulcificum berry. The treatment is intended for all nail types to nourish cuticles, strengthen nails, reverse brittle nails, prevent nail fungus and maintain healthy nails. miraclefruitoil.com
Stuck on You
Festive details on a fresh set is one way to take a holiday manicure from ordinary to extraordinary. One easy, time-saving way to achieve the perfect yuletide details is with stickers. We have rounded up these charming sheets to keep on hand during the year-end rush.
These holiday sticker sheets from Daily Charme lend classic holiday charm, including stockings, reindeer and snowflakes, to any manicure. dailycharme.com
From candy canes to sugar cookies, make the sweet treats of the season the main attraction with these Magpie Beauty sticker sheets. magpiebeautyusa.com