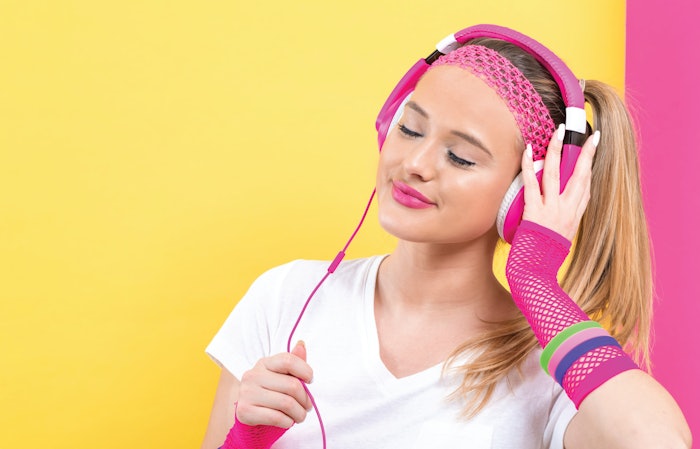 I am a child of the '80s. Though I was born just shy of the year "Thriller" came out, I came to be the year MTV changed the music industry forever and the year the term Internet was first used. I rode a big wheel, rocked a side pony and memorized as many Janet dances as I could. Not being a teen in this decade, however, I felt like I only got to dabble in what were some major fashion and beauty moments. The good news? All things '80s are coming back, and most of these looks are perfect for summer!
Fashion labels have brought back '80s trends, such as high-waisted jeans, fanny packs (ahem, belt bags) and puffy sleeves, but moreover, beauty brands are honoring the flashy decade with bushy brows, neon nails, brightly colored eyeliner and more. Although I am all for neutrals, after a dreary winter, I am more than ready to bring on the bold.
1. OK, Rosé
I'm not going to lie, summer makes me think of chilled rosé on the porch. Even if you don't enjoy the taste of this French blush, you can partake in Patchology's Serve Chilled line of Eye Gels and Sheet Masks. Think about offering these in your retail space or giving clients a pair to refresh tired eyes during their nail service, wine pairing optional.
2. Neon Nails
I don't know many skin tones that don't look good with neon nails, so I am excited they are having a major moment this summer. Some of my favorites from the summer collections include Orly's Tangerine Dream, Cuccio's Dancing In the Dark and Artistic Nail Design's Too Much Sax, all shown here. For more amazing summer collections shades, check out the May/June digital magazine.
3. Game On
NYX Professional Makeup has partnered with Tetris to launch a limited-edition makeup line of bright shadow, liner and lip shades inspired by the popular game. The Blue Trip and Turqoise Storm shades in the Tetris Epic Liner Kit are perfect for brightening eyes for warmer weather, and they deliver 36 hours of waterproof, smudge-proof and fade-proof color.
4. Hot Feet
Pedicure bowls took a bold turn just in time for summer, as Belava has ramped up some of its Glitter Pedicure Bowls to be more vibrant. Clients are sure to enjoy soaking their feet in these beauties, now offered in Hot Pink, Aqua, Glitter White and Gold.
5. Pumice Perfection
Not only are these just about the cutest things I have seen in a while, but they are a large 360° stone with an extended grip handle for comfort and reach. This pedicure tool and exfoliator is available in three bright color combinations with the scents Blasting Berries, Mango Mixer and Refetish-Mint.