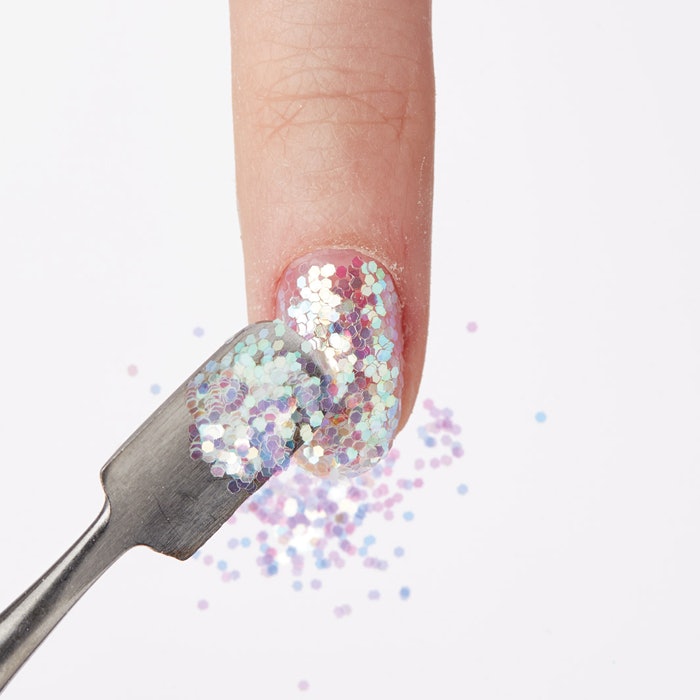 Take soak-off gel polish to the next level by adding dip powder for a strong and natural-looking overlay.
It's proper practice—and strongly encouraged—to work within nail systems, as products are formulated to perform best when used together. That being said, sometimes, as Kittanning, Pennsylvania-based Purple Pinkie Nail Salon owner Rhonda Kibuk has discovered, rules are meant to be broken. To create a durable yet natural overlay, the veteran nail tech applies dip powder to the tacky layer of cured gel polish instead of using resin. "I'm not a fan of dip systems with glue or resin," says Kibuk. "I don't feel that you can thinly apply the product at the cuticle while building a graceful arch. The powder gives a traditional gel manicure extra strength." Here, she shares her technique that has her clients raving about their nails.

1) Prep and prime the natural nail. Apply one thin coat of Young Nails Conversion Base. Cure for 30 seconds under an LED light.
2) Use a fluffy brush to apply clear dip powder onto the tacky layer.
3) Apply one thin coat of Young Nails Conversion Top. Cure. Apply additional product if needed to build structure or fill in low areas. Cure, and then buff to smooth the surface.
4) Continue with the gel polish service as usual.
Recreate the look with these must-have products!

1. Kupa Sculpting Forms
2. Orly 100/200 Grit Zebra File
3. Cuccio Powder Polish Dip Clear
4. Gelish Merci Bouquet
5. Young Nails Caption Conversion Base and Top
6. Mia Secret 100/180 Grit File
7. SNS Natural Set Sheer
8. Revel Nail Dip Powder D75 Vivien Clear
Construction Zone
The most amazing part of this soak-off gel and dip technique, boasts Kibuk, is that it's not simply for creating an overlay; you can actually add length with it! However, she does caution that she has only achieved these results using Young Nails Conversion Base and Top. If you decide to attempt this technique with a different gel base and top, be sure to test it out first before using it on a client.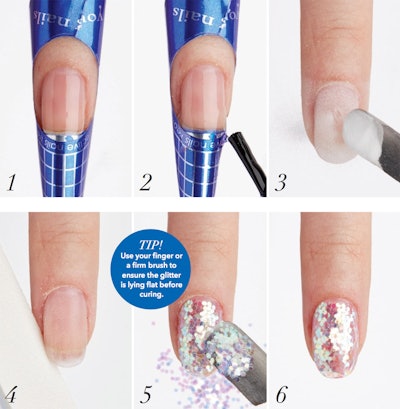 1) To extend the free edge, apply one coat of Conversion Base to the nail plate, and cure. Then, apply a form, ensuring that the guidelines are aligned with the direction of the nail.
2) Float Conversion Base onto the form. Cure. Repeat this step if needed for added structure.
3) Remove the form and dust clear dip powder onto the tacky layer. Brush off the excess with a fluffy brush.
4) Shape the sidewalls and free edge.
5) Apply a thin layer of Conversion Base. If desired, add glitter, and then apply another thin coat of Conversion Base. Cure.
6) Dust clear dip powder onto the tacky layer once again to fill in any gaps between the glitter. Finish with Conversion Top. Cure.
–by Angelina Lewis
This story first appeared in the June issue of Nailpro magazine. To receive the magazine, click here to subscribe.
[Images: Courtesy of Armando Sanchez]