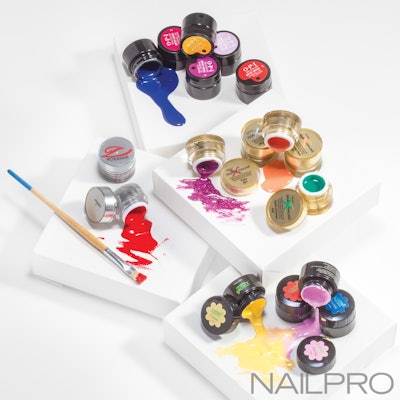 Nail trends are forever evolving, and manufacturers are constantly taking note of the latest techniques in order to develop new products that make techs' lives easier. Gel paint, also commonly referred to as "art gel," is the latest nail art innovation making waves in the industry and with good reason: It can be used to achieve virtually any design in a matter of minutes. "I've thrown out all of my acrylic paints and replaced them with gel paint," says Vu Nguyen, nail artist and global educator for Gelish. "Gel paint stays in place and doesn't dry until its cured, allowing techs time to correct their work if necessary." Unlike traditional gel polish, gel paint is specifically formulated to deliver full-coverage color in a single stroke, making it easier for pros to paint intricate designs without having to go over their lines to achieve the desired opacity.
Since gel paint is thicker than gel polish, techs must learn how to control the product before attempting to create complex designs. Nguyen advises techs to have at least a few different brushes on hand when using gel paint. "I always keep a fine point brush, a flat one-stroke brush, a short bristle blending brush and an ultra-fine point brush on my table," he says, adding that it's important to use a brush cleaner, not acetone, when cleaning brushes in order to prevent the bristles from fraying and falling out.
Additionally, Los Angeles-based nail artist Fariha Ali cautions against picking up the product straight from the pot. "Art gels can be quite thick, and unless you use a palette to work the product through with the brush, you aren't using the gel to its full potential," she says. Chicago-based artist Spifster Sutton recommends placing the gel paint on the nail, rather than painting long strokes, adding, "The power is in the hand, not the gel."
To help hold the integrity of the product when it's not in use, proper storage is essential. Teana Grigorash, nail artist and owner of Teana Nails Studio in Sherman Oaks, California, recommends keeping the product in a cool, dark place. "Storing gel paint in the right conditions will prevent it from drying out," she says, "especially if a group of techs are constantly using the product in the salon."
As with any nail art design, don't forget to price accordingly. After all, it's the amount of effort spent on a design that counts, not the cost of the gel paint. "A little art gel goes a long way," says Sutton. "I may pay $15 for a pot of gel paint that will last me months compared to a bottle of regular polish that will last me about a week." Ali, who uses gel paint to create hand-painted nail art, believes that techs should charge based on the intricacy of the design. Nguyen agrees, saying, "When using gel paint, I keep my [service] price the same, and charge about $1 a minute [depending on the intricacy of the art]."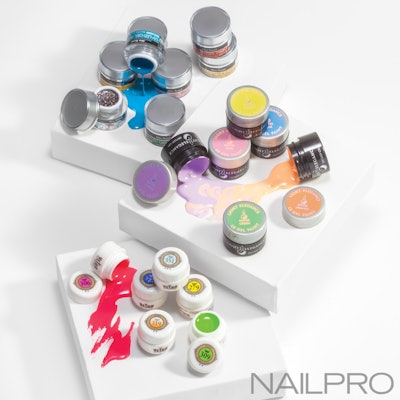 Eager to elevate your artistry—and boost your bottom line—with gel paint, but not sure where to start? We've got you covered. We asked art gel pros to create easy, on-trend designs. Here, their step-by-step tips.
Block On by Spifster Sutton @spifster
Proper placement of gel paint is the key to achieving a modern color block look. For thin, precise lines, Sutton recommends working with a small amount of product at a time, adding, "Using too much product will add weight to the bristles, making it harder to paint a consistent line." Full tutorial here.
Fine Art by Vu Nguyen @vudoonails 
For more complex designs, such as a portrait nail, Nguyen recommends painting a grid with gel paint to serve as a reference point. "Paint a light grid on the nail, then use a cotton swab dipped in nail cleanser to clean up the lines once you're done painting," says Nguyen. Make sure that you wait until after you've perfected the design before curing. Full tutorial here.
Sheer Illusions by Teana Grigorash @teananails

Bright, see-through shades and clean lines transform any opalescent design into an edgy, stained glass-inspired creation. To achieve the linear look, Grigorash recommends a synthetic brush and a steady hand, although she insists not to stress if your lines aren't perfect, saying, "Art gel makes it easy to go back and fix your mistakes." Full tutorial here.
Pop Play by Fariha Ali @nailjob 
Crafting whimsical, hand-painted designs is easy with gel paint, thanks to its super-thick consistency and heavy pigmentation. "Use just enough product so your brush doesn't stagger, but no more than that," says Ali. "Gel paint has a high level of pigmentation that makes it harder to cure, and you don't want to spend a long time on a set of nails only to have them peel hours later because the gel didn't cure properly." Full tutorial here. 
-Taylor Foley 
What your favorite thing about gel paint? Let us know in the comments below! 
[Images: Photography by Jason Bennett]
This article was first published in the July 2017 issue of
NAILPRO
.