By Stephanie Yaggy Lavery • Photography by Cory Sorensen
Nothing gets us more excited than a good polish pairing- and the partnership with Gelish/Morgan Taylor and Disney's Beauty And The Beast encouraged us to go big this spring. Thanks to the creative talents of Danny Haile, Thao Nguyen and Vu Nguyen, we feature iconic hues – and more!- in our spring polish story inspired by the classic animated film, and now, a live action movie. Follow our Belle on a journey through color and design in "Heart & Soul."
Find color inspiration this season with iconic hues and shade-shifting tints that will entice your guests and put your services to the test.
Center of Attention
Call effortless attention to tips in classic spring shades, like robin's egg blue. Amp up the interest by layering colors and adding hue enhancers for an accent nail that's sure to draw in admirers.
Tête-à-Tête
When entertaining new friends—even the surprisingly lively inanimate ones—allow tips to entice in vivid shades of crimson, rose or fuchsia. But if bold isn't your beloved, opt for a pastel version that's equally striking.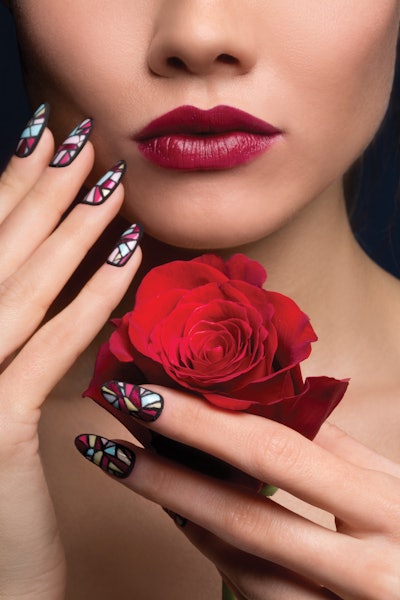 Art's Desire
Sometimes a slick coating of lacquer in a rich jewel tone can have as much impact as intricate art. Your best bet for either look is to play up textures; think subtle shimmers and gritty mattes. And for those male clients who are feeling a little "beastly," why not offer up a swipe of deep color
for their talons?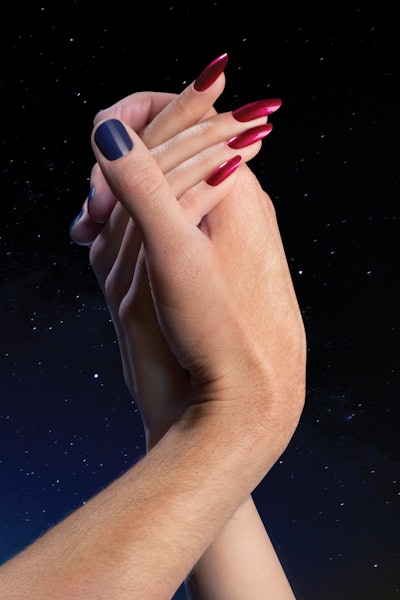 Sweet Seduction
While classic hues remain front-and-center this spring, unusual hints of color provide interest in a surprising array of tones. Take this flattering shade of canary, robust with refined flecks of shimmer; it can easily be worn by itself, as an accent or enhanced with acrylic powder for a tone-on-tone design that's as simple as it is beguiling.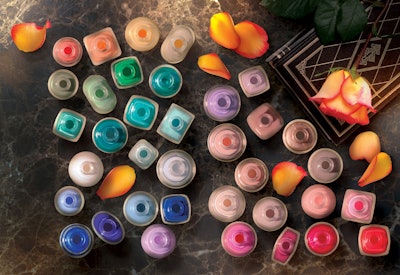 Colors featured: China Glaze: I Just Can't-Aloupe, LeChat Dare to Wear: Firefly, Christrio Q.Lacq: No. 107, Cuccio Colour: Trust Yourself!, Caption: Spring Forward, Cuccio Colour: Positivity!, Essie: On the Roadie, Gel II Extended Shine: Mermaid Dreams 9, Omega Labs USA: No. 425, OP: Is That a Spear In Your Pocket?, Color Club: Montego Bae, Seche: Jubilant, LCN: Dancing Strangers, Xtreme Nail: Arctic Snow, Morgan Taylor: Potts of Tea, Caption: Happy Disaster, Artistic Nail Design: Denimist, Essie: All the Wave, China Glaze: Crushin' on Blue, CND Vinylux: Video Violet, Orly: As Seen on TV, IndieGirl: Color Me Purple, Londontown Lakur: Dolly Mix, Morgan Taylor: Plumette with Excitement, Zoya: Jill, Dazzle Dry: OhmmMG!, Mia Secret: Shadow, Jessica Cosmetics: Nude Thrills, SpaRitual: Harmony, KBShimmer: Caught on Tape, Orly: Cool in California, LeChat Dare to Wear: Fairy Dust, OPI: Two-Timing the Zones, Dermelect: Coat D'Amour, CND Creative Play: Cherry-Glo-Round, Color Club: Blaze
Which of these iconic hues inspires you the most this season? Let us know in the comments below! 
[Photoshoot credits: Nails Danny Haile, Thao Nguyen and Vu Nguyen Makeup Michelle Tabor-Ramos, AIM Artists Hair Preston Wada at Opus Beauty using Kevin Murphy Wardrobe Jordan Grossman Set Design Eddie Inda Models Anastasia Krivosheeva, Photogenics; Brandon Katz, LA Models Digital Retouching Jaison Duell Wilson]
This story was originally published in the March 2017 issue of NAILPRO.