Clients today are craving nails with a reflective and prismatic finish. Offer them the trendy manicures they can't easily achieve at home by incorporating a new service into your nail art menu. With the EzFlow Chrome Effects pigments, you can give nails the heavy metal treatment. From super metallic foiled finishes, deep chameleon color-changing shades, to even hypnotizing and multi-dimensional holo looks, the system features six super pigmented powders to help you execute them all.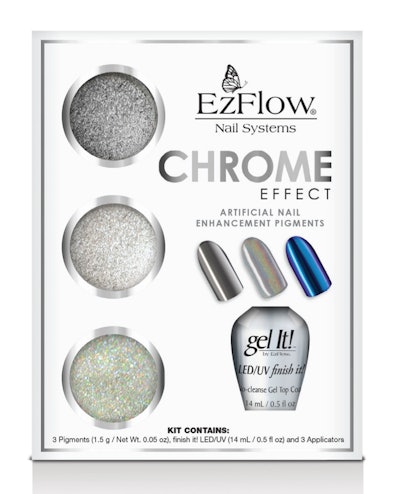 The two-step system from EzFlow includes Finish It! LED/UV Gel Top Coat that doubles as a base and top coat that creates an ultra shiny, durable mirror effect.
Take a closer look at the powders below: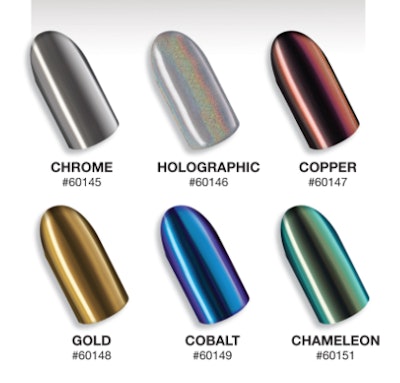 Chrome– A silver mirror effect
Holographic– A multi-dimensional prismatic effect
Copper– A deep copper rose metal effect
Gold– A dark gold metal effect
Cobalt– A deep blue color-changing effect
Chameleon– A vibrant green color-changing effect
Watch this video tutorial to learn how to apply Chrome.
Watch this tutorial to learn how to apply Holographic.
EzFlow Chrome Effect Pigments can be applied over a black base for a classic chrome effect, or customize the look even further by changing the base color or pigment.
Here's how to recreat the look: 
Start by sculpting acrylic or traditional hard gels to desired shape. File and buff smooth.
Apply one coat of Finish It! LED/UV Gel Top Coat over sculpted nail and cure (30 seconds in LED or two minutes in UV lamp).
Using the round cup end of the new EzFlow dual-ended Nail Art Silicone Tool (included in the kit), apply a very small amount of selected Chrome Effect Pigment and rub over the entire nail.
Remove any excess pigment and apply a final coat of finish it! LED/UV Gel Top Coat, making sure to cap the free edge of the nail. Cure.
Pro tip! The Chrome Effect pigment process can be applied over any color nail enhancement but for best results, apply the pigments over black acrylic or gel base. Be sure to gently clean any excess pigment from the nail prior to applying top coat. Excess powder will give nails a sparkling finish rather than a mirror or chrome effect.
The pigment powders are available now as open stock and a Chrome Effect Pigments Kit, which features three shades including Chrome, Holographic and Cobalt, plus Finish It! LED/UV Gel Top Coat and one Nail Art Silicone Tool.
Which pigment powder are you dying to try first? Let us know in the comments below!
[Images: Courtesy of EzFlow]