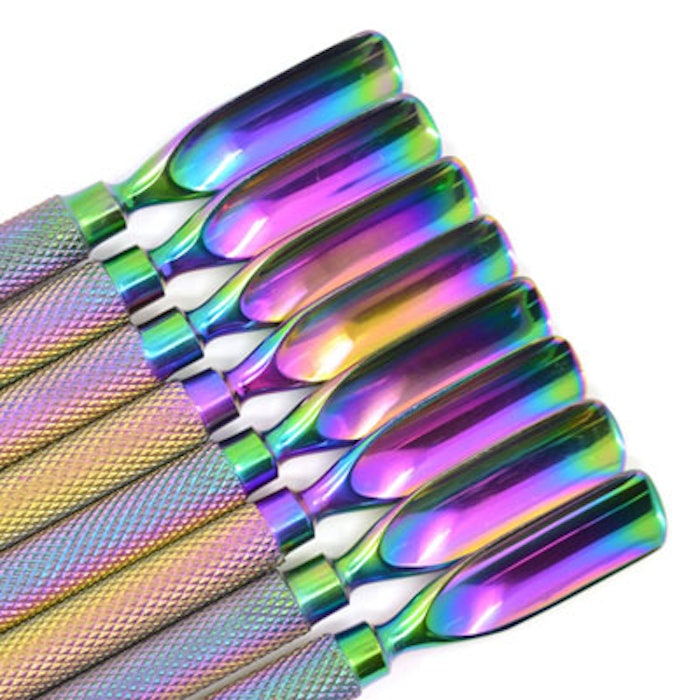 Shouldn't your tools be just as fabulous as your nail art? If your answer is yes, you're going to want to take a look at KBShimmer's newest line of rainbow tools.
Make Your Mani Kit Fierce with KBShimmer Rainbow Tools
A nail tech without tools is like Liza Minnelli without Broadway–the two just go together and one without the other would be sacrilege. So with that knowledge in hand, why are you still using those boring ol' stainless steel tools from yesteryear?
With KBShimmer's newest nail tool collection, the future is here and it is rainbow. What are we talking about, you ask? KBShimmer's newest line of stainless steel tools coated in titanium that gives it a beautiful rainbow shimmer. See photos of the fabulous collection below.
Cuticle Nipper
Dual End Cuticle Pusher
Slant Tip Tweezer
See the entire collection here.
Nail techs and/or salon owners will be happy to know that this set of high-quality nail tools was manufactured by a company that also produces medical grade equipment meaning that these rainbow tools are not only pretty to look at, but durable and long-lasting too.
Stainless steel is so 2015! Upgrade your mani kit with these rainbow tools; we know we are. 🙂
What are your thoughts? Will you be adding these to your manicure kit?