Singing while you retail? It's true. Mariah Carey's renditions of beloved Christmas songs are already playing through our heads, one reason why OPI teamed up with the songstress to create some limited edition colors especially for the winter season.
If you're already gearing up for the retail season in your salon, stock your shelves with OPI Mariah Cary Holiday Gift Sets. Each of four versions offered is a little different, so those purchasing lacquers for loved ones can select the colors they think would be best, allowing everyone to have a bit of personalized cheer! See what makes each of the four gift sets unique and decide which ones you want to stock up on.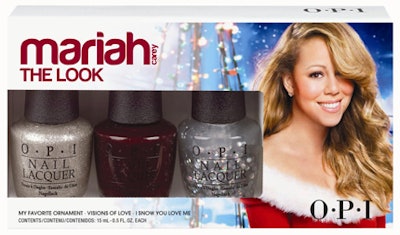 Mariah Carey The Look contains three full-sized lacquers: My Favorite Ornament (champagne glitter), Visions of Love (rich burgundy) and I Snow You Love Me (holographic confetti).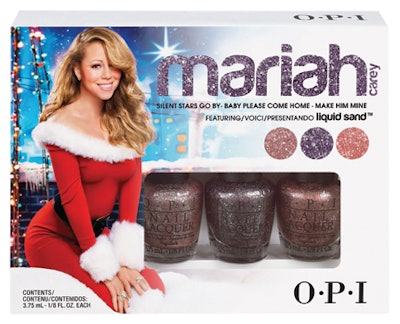 The Mariah Carey Mini Liquid Sand 3-Pack comes in two color options. The first contains Mariah Carey Holiday Liquid Sand shades Silent Stars Go By, Baby Please Come Home and Make Him Mine.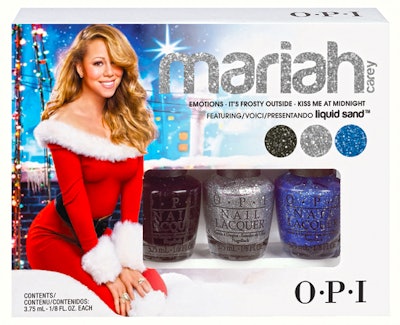 The second Liquid Sand trio includes It's Frosty Outside, Emotions and Kiss Me at Midnight.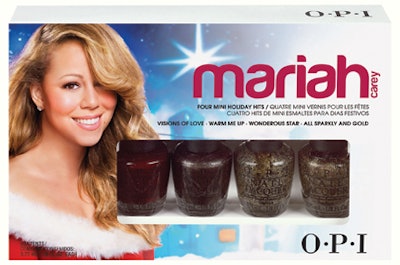 The Mariah Carey Mini 4-Pack includes four mini lacquers – two glitters (Wonderous Star and All Sparkly And Gold) and two seasonal hues (Visions of Love, Warm Me Up).
[Images: OPI]