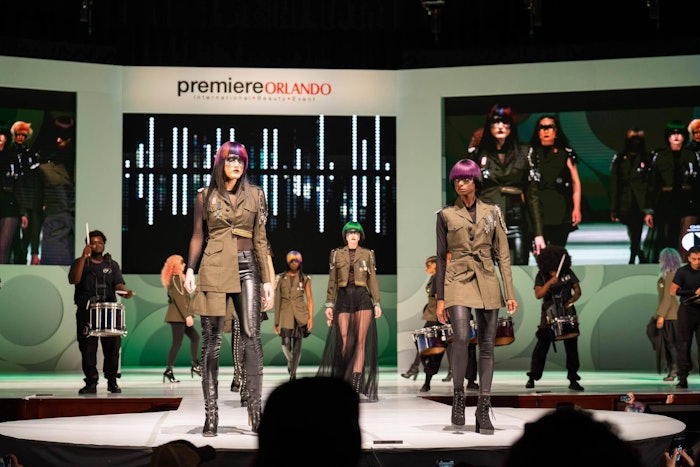 Courtesy of Premiere Orlando
Following an exciting expansion of the Premiere Shows to the West Coast, with Premiere Anaheim, the Premiere Show Group has announced that registration is now open for its flagship event Premiere Orlando, taking place June 3-5, 2023 at the Orange County Convention Center, West Complex. 
"We're pleased to welcome the beauty community back to Premiere Orlando for what is looking to be our biggest show yet since the pandemic interrupted events," says Ed McNeill, Senior Vice President, USA Beauty LLC. "Premiere Orlando is proud to deliver an educational program that outshines the competition and offers beauty professionals, and students alike, classes and workshops from the best educators in their fields. Attendees will also have the opportunity to connect and shop the hottest brands in hair, barber, nails, skincare, makeup and more. Premiere Orlando features multiple resources for discovering all the latest techniques, trends and products to further your career."  
Premiere Orlando
Premiere Orlando features next level education with 650+ classes, 500+ exhibiting brands and 50+ workshops, providing a first-class community experience for beauty professionals to network, learn and connect with decision makers in a supportive and inspiring environment. Attendees will enjoy three bustling days where they can enjoy Main Stage & Barber Stage presentations and take advantage of complimentary classes plus hand-on workshops, all while connecting with thousands of beauty industry peers. With special events, live and turn-in competitions, an Experiential Lounge, Premiere Job Fair and more, this event is one you won't want to miss!
Education 
Premiere Orlando welcomes back in-demand brands, renowned educators and experiences where creativity comes to life in color, style and texture, nail art, dayspa techniques, business tips and more. Attendees will become immersed in new trends with the most influential names in beauty. Join artists and educators including the return of Guy Tang & Tracey Hughes with the Leading Legends, John Paul Mitchell Systems, Lala Chihaia, Sam Villa, Jacob Khan, Leysa Carrillo, Ammon Carver, Jan Arnold, Linh Phan, Fern the Barber, Presley Poe, Chrystofer Benson & the CBC Team, Candy Shaw, Philip Wolff, Ashlee Norman, Arod & the L3VEL3 Team, Jenny Bui, Nicck Townsend, Manon Pilon & many more! Preview the full list of educators and classes here.
Specialized Classes
Premiere Orlando is pleased to introduce two specialized classes that are top-of-mind and trending for the beauty industry:
Mental Health: A series of classes that share how to make YOU the top priority and bring joy to each day.
Sustainability: Green Circle Salons shows how you can "Create Beauty, Not Waste." 
Continuing Education
Premiere Orlando is your one-stop shop for all things CE-related and welcomes back programs for Cosmetologists & Barbers licensed in the state of Florida & Massage Therapists certified nationally. 
Exhibitors 
Premiere Orlando's show floor is filled with a wide assortment of exhibitors across hair, nails, barber, skincare, makeup and more! Shop salon and spa favorites and watch live demos from your favorite brands such as REDKEN, MATRIX, Sam Villa, ULTA Beauty, American Crew, L3VEL3, Andis, Wahl, ASHTAE Products, CND, Dyson, Derme&Co, Moroccanoil, BaBylissPRO, Chi by Farouk Systems, FarmHouse Fresh, K18 Hair, Sexy Hair, Aprés Nail, Eminence, Lightstim, Circadia by Dr. Pugliese, Mark Lees Skin Care, Voesh New York, Profiles Backstage, Procell Therapies, LeChat, Light Elegance Nail Products, and more!
Orlando Main Stage
Premiere Orlando is the place to be for color, style and texture! Not to be missed are two days of incredible artistry on the Main Stage with the triumphant return of John Paul Mitchell Systems. Industry professionals will enjoy presentations from Artistic Director Paula Peralta with special guests Stephen Moody and John Mosley, Orlando Rodriguez, Kristy Varga, Nike Blout, Jose Avila, Colin Caruso and Regine Valcin. You won't want to miss Sofie Pok, Jamie Wiley, Joel Torres & Carlos Estrella of BaBylissPro & Barberology; Ammon Carver, Leysa Carillo & Jack Howard with Social Art House; Lala Chihaia of Lala's Updos; Guy Tang of #Mydentity; Chrystofer Benson, Greta Coston, Pati Plymire, Cory Hoffman, DJ Muldoon, Ira Pope Sage, Sam Smith & Wes Does Hair with CBC; Graham Nation with SexyHair; Patricia Rodriguez, Eric Vaughn & Michelle O'Connor with MATRIX; the ULTA Beauty Pro Team; Naeemah laFond, Keya Neal, Shayla Robertson, Samantha Harmon & Brea Retic of SalonCentric #ItTakesAProTeam; Sam Villa, Sean Godard, Philip Foresto & Tara Abramowicz of REDKEN; and the Danger Jones Artistic Asylum! Premiere Orlando continues its close partnership with SalonCentric whose #ItTakesAPro team is sure to inspire!
Barber Stage with Classic Cuts and Modern Twists
You'll be the first to know the hottest new barber trends that you can take home to your clients! Learn from the talented lineup including Matty Conrad of Victory Barber & Brand; Kenny Duncan & Danny Amorim with ANDIS; Kevin Nguyen, Fernando Ibanez & Byrd Mena with Wahl; Carlos @Los_cut_it Estrella, Danya Gamba, Hawk & Sofie Staygold Pok with Barberology; and Arod23pr & Carlos @Los_cut_it Estrella with L3VEL3!
Competitions
Premiere Orlando competitions offer the chance for you to show off your skills and gain industry exposure. WIN BIG and become a part of our legacy! Here's the opportunity to compete in one of our Hair, Barber, Nails or Makeup competitions! NEW for the nail techs – compete to win the Nailympia Premiere Cup 2023! Competitors must compete at 2 of the 4 USA locations. The Premiere Cup winner is calculated by scores taken from L&P Acrylic Sculpture, Joy of Nails, Salon Nails, Flat Art & Reality Nails.
Premiere Experience Lounge
Premiere Orlando will now offer attendees, exhibitors, educators and influencers a modern new experiential lounge located on the main show floor where you can network, explore what's new in beauty, grab a cocktail, catch up on emails or just re-energize! Explore the beauty sample bar or sit for complimentary beauty services such as a braid bar sponsored by PureO Natural Products. It's the perfect location to connect, chill, and pose for an Instagram-able moment!
Register Today!
Premiere Orland encourages you to register for their advance ticket special. Register by April 17 and save $50. A Premiere Orlando show pass includes access to classes, from June 3 -5, and the exhibit floor and Stage Presentations from June 4-5. Workshops sold separately.
For full details about this exciting event, please see the full show preview here. To purchase show passes, visit https://premiereorlandoshow.biz/.