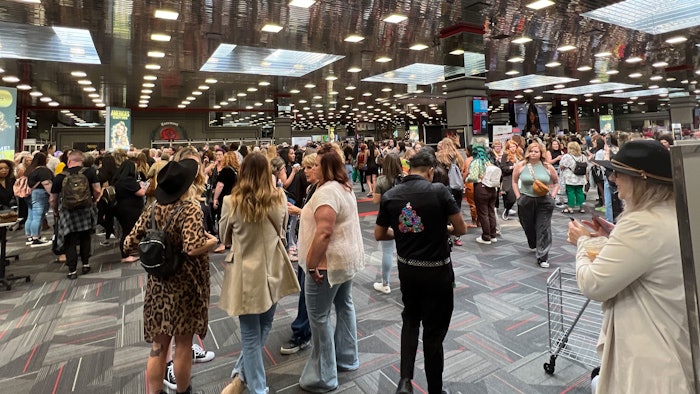 America's Beauty Show celebrated its 100th anniversary this year with its 2023 show, taking place April 15-17. 
The show offered plenty of opportunities for professionals in the beauty industry, especially with this year's co-location with The Makeup Show.
If you weren't able to make it to Rosemont, IL for this year's show, here's five things you missed. 
1. Education 
America's Beauty Show offered educational opportunities for hair color, hair care, texture and braiding, extensions, grooming, nails, makeup and lashes, skincare and business classes. Cosmetology students even had the opportunity to earn CEUs by attending certain classes. 
Classes took place on the second floor of the convention center and at several mainstages set up throughout the show floor. 
In a panel with Salon Cadence, entitled "Leveraging Cutting-Edge Marketing & Branding Tools for Salon Success," Olivia Smalley (@omgartistry) shared advice for dealing with hate comments online. 
"If you wouldn't let them in your house, don't let them in your head," Smalley shared. 
Wisdom like this was abundant throughout ABS weekend. No matter what corner of the beauty industry you were in, you had something to learn and take away from the many educational opportunities offered at ABS. 
2. Products 
If you were looking to shop, America's Beauty Show had plenty to offer!
Brands like Solano, juliArt, ERGO Styling Tools, Felps Professional USA and Kokoist USA all had booths at ABS and were showcasing their newest and hottest products. 
Kokoist USA showed off their Liquid Mirror Chrome Set, while Solano showcased their gorgeous line of blowdryers, including their SuperSolano Professional Hair Dryer.
Of course, there were product demos and plenty of opportunities to learn how to properly use the products each brand was showcasing. 
Hotheads Hair Extensions offered multiple educational sessions throughout the weekend to learn how to use and install their new Lush by Hotheads Collection at their Hair Extension Mane Stage in collaboration with HALO Couture, hairtalk extensions and Donna Bella Hair.
Felps USA also collaborated with Savannah Miles and Steve Hightower, who represented them at the show and helped them debut their new post-treatment blowout. 
3. Mainstage Presentations 
The mainstages were on fire at America's Beauty Show! 
Brands like FASTFOILS, Tondeo, ANDIS and Salon Centric were spotlighted on two different mainstages located on the show floor — The Runway at ABS and the Barber Connection Stage. 
John Mosley (@popular_nobody), who was featured on Beauty Launchpad's September/October 2022 cover, shared clipper cutting techniques followed by tips to capture the best images to post to social channels for ANDIS at the Barber Connection Stage. 
Tondeo took the Runway mainstage with their talented team of barbers to showcase their shears and provide some helpful haircutting tips.
4. ABS Global Image Awards
After the first day of ABS 2023, on Saturday, April 15, attendees and nominees got all glammed up for the Global Image Awards. 
The international hairdressing contest celebrates the passion and artistry of professional and emerging stylists in an image and video competition that features professional and student categories.
The awards show featured a presentation from the Ulta Beauty Pro Team, who created the looks behind the photo collection for ABS 2023, and performances from TOO HYPE Crew. 
The winners were also announced at the show. The JCPenney Salon Team took home the award for Team Collaboration. 
5. Fun! 
No matter where you were at or how you spent your days at America's Beauty Show, there was plenty of fun to be had!
Brands like MoroccanOil, Hattori Hanzo Shears and Farouk Systems had booths on the show floor that drew plenty of eyes towards them. The Hair Cuttery Family also had a cute photo opportunity to pose inside of a bubble bath at their booth to promote their salon-exclusive haircare brand CIBU.
There was also the opportunity to meet and mingle with stylists and industry professionals all throughout the show. 
You can see just a small glimpse at some of the wonderful beauty pros Beauty Launchpad got the opportunity to catch up with below. 
If you're feeling the FOMO, don't worry! America's Beauty Show 2024 is set to take place April 20, 21 and 22. Earlybird tickets are on-sale now at www.americasbeautyshow.com.