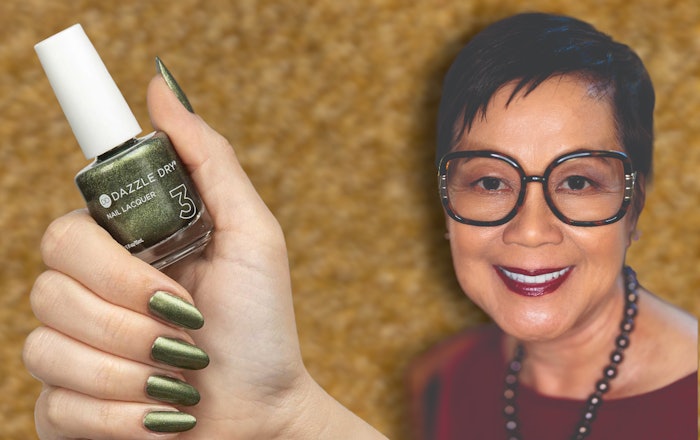 Courtesy of Vivian V. Valenty and Dazzle Dry
This Women's History Month, Nailpro is celebrating by sharing the stories of five women in the nail industry that we consider to be trailblazers.
Vivian B. Valenty (@nailpolishdoc), Ph.D. is the founder, president and executive chairwoman of VB Cosmetics, Inc. Below, she shares her story, including what advice she would give to other women nail techs who are looking to be just as much of a trailblazer.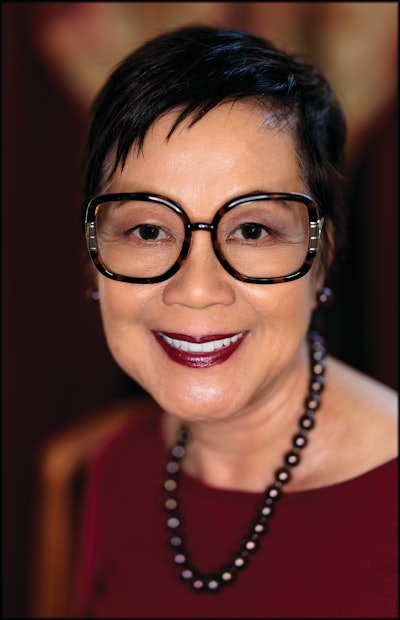 Q&A: 
Nailpro: How/when did you get started in the nail industry?
Vivian Valenty (VV): In 1990, I invented the first UV-curing top coat that dried freshly applied traditional polish in six minutes. I sold the patent, left my corporate job and started creating and manufacturing nail care products to marketing companies in the nail industry such as ProFinish, ProLinc and other well-known companies.
Nailpro: What makes you passionate about nails? 
VV: I developed a passion for nails when I realized that the main reason why I did not wear polish regularly is because of traditional polishes' deficiencies – They take too long to dry, chip too fast, and turn nails yellow. I was confident that I can contribute to society by creating a product that solves this problem. I noticed that when people's nails are healthy, well-groomed, and decorated, they are more animated during a conversation and more confident showing their hands.
Nailpro: What is one of your favorite memories in the nail industry?
VV: Exhibiting at tradeshows and other events where I met a lot of interesting people and spending quality time with the staff who traveled with me.
Nailpro: What advice do you have for any women in the nail industry who are looking to make waves in the way that you have?
VV: Do not underestimate the value of persistence and resilience. Practice lean concepts, and closely watch your bottom line.
Nailpro: What are any goals and aspirations you have for your career going forward?
VV: My aspirational goal is for Dazzle Dry to be recognized as the most loved nail polish brand worldwide. As I celebrate my 79th birthday in 2023 and Dazzle Dry its 16th, I know we will make significant strides as VB Cosmetics community members are gelling together and embracing our core values: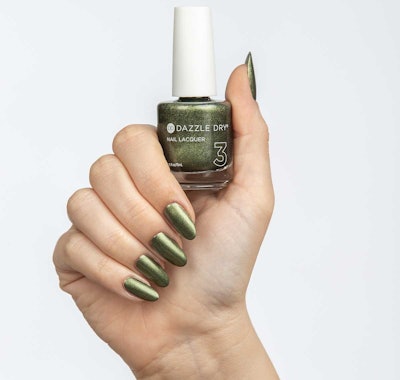 Community – What binds us together. We are passionate about beauty. We are a female-owned and founded community that is balanced in management, and we walk the talk. We value diversity and are inclusive – embracing everyone in a family-values environment.
Competitive – We love winning. We rise to the occasion whenever needed to satisfy our customers better than our competition.
Communication – Mutual understanding. We work to understand all perspectives through mindful and respectful questioning and listening.
Collaboration – Help each other. We support each other and have each other's backs so the Company succeeds.
Competence – It is what we contribute. We live quality. We innovate, produce, and deliver our very best. We develop sound business processes together that do the job and continuously improve them.
aCcountability – We do what we promise. We are honest and promptly meet expectations to customers, suppliers, and each other.
Change – It is how we excel. We are nimble and embrace growth with new processes, products, customers, consumers and markets.
Celebrate – A job well done. We recognize Company, team and individual success. We have fun every day.