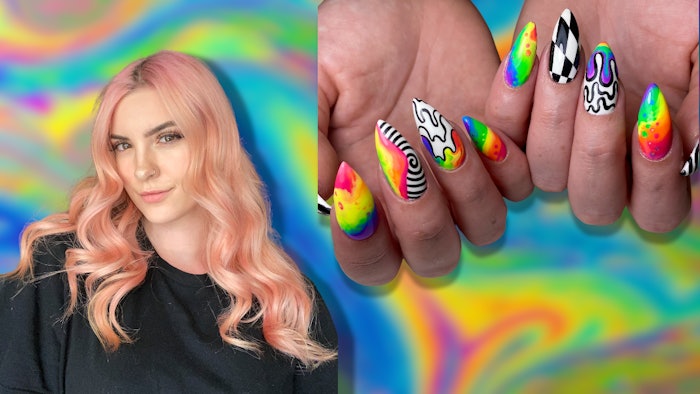 30 Under 30 Spotlight: Natalie Marie Valentine 
Natalie Marie Valentine (@nailphases) is an Austin, Texas-based nail artist and owner of Nail Phases. 
Read our November/December 2022 digital magazine to see the complete list of 30 Under 30 winners.
Q&A 
Nailpro (NP): Tell me a little bit about yourself! How did you get started, and why did you choose to become a nail tech?
Natalie Valentine (NV): I chose to become a nail tech when I was in high school after I fell in love with creating art on my own nails. I remember doing my nails every other day after school just to try out different nail art. I loved the idea of doing something artistic with my life and being a nail tech felt like a perfect fit! 
NP: What is the toughest part about your job as a nail technician/nail artist/salon owner?
NV: The toughest part of my job is setting boundaries with clients and having a proper work/life balance. 
NP: What do you love about your job?
NV: I love that this job gives me the opportunity to interact with so many different people and create tiny masterpieces they can enjoy for weeks at a time! 
NP: Where do you find inspiration?
NV: I find inspiration all around me! I often find myself inspired by nature as well as prints from painters and other artists. 
NP: What is a piece of advice you would give other nail technicians who are just getting started?
NV: The advice I would give someone just starting in the nail industry would be to only compare yourself to who you were yesterday. We are all writing our own story even if we are on a similar path. 
NP: What is a tip you have about any technique, service, business, etc.?
NV: A tip I have when trying out new products or tools is to practice on yourself first. You can get a really good understanding of what you're using and how long it lasts without having to use a client as a guinea pig. 
NP: What is your favorite nail trend right now?
NV: My favorite nail trend at the moment is definitely the mix 'n match trend. It's so fun seeing the ideas people want to pair together!
NP: What is your favorite service to offer? 
NV: My favorite service to offer has to be nail art! 
NP: Who is your role model?
NV: My role model is Devin Strebler also known as @nailz_by_dev. Her passion for nail art and her drive is so inspiring. She has shown me that you can do anything you set your mind to.
NP: What do you love about the nail community/industry?
NV: I absolutely love that this community has each other's best interest at heart. The amount of love and respect this community has for each other is truly amazing!
NP: What are your top goals as a nail tech?
NV: My main goal as a nail tech is to gain as much knowledge in different products and techniques so that I can provide the best quality service to each person that sits in my chair. 
 Follow Nailpro on Instagram and subscribe to our free daily newsletter to receive the latest news for nail professionals.