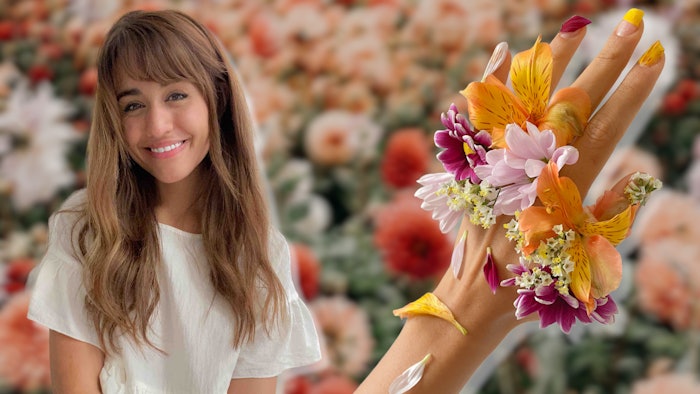 30 Under 30 Spotlight: Miish Quiroz
Miish Quiroz (@ohchamomilenails) is an El Paso, Texas-based nail artist and the owner of Oh! Chamomile Nails. 
Read our November/December 2022 digital magazine to see the complete list of 30 Under 30 winners.
Q&A 
Nailpro (NP): Tell me a little bit about yourself! How did you get started, and why did you choose to become a nail tech?
Michelle Quiroz (MQ): Hello, my name is Michelle, but I rather go by my nickname Miish. I was born and raised in Chihuahua, Mexico, but I'm currently living in El Paso, Texas. I'm a nail tech, artist, graphic designer and founder of my business Oh! Chamomile Nails. To this day, I have a small private nail studio, I run an e-commerce/online store where I sell my press-on nails, I offer courses on how to launch a press-on nail business and create content related to the teaching nail industry on my YouTube channel. It all started as a hobby three years ago. For me, doing my nails has always been a special moment to disconnect and relax, but I also love starting new friendships and making community with women. I saw this as an opportunity, not only for business but to be able to talk and cultivate relationships with more women, make art in a small canvas and offer a safe space where women could feel loved.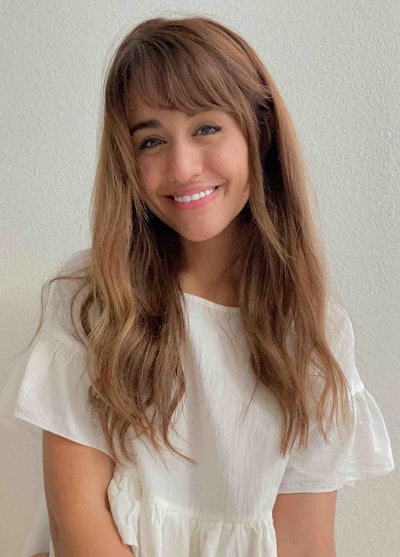 NP: What is the toughest part about your job as a nail technician/nail artist/salon owner?
MQ: Wow! Great question! Starting a business in a different country I would say. Learning the English language has been a challenge. Second, to be an entrepreneur. Entrepreneurship is difficult! It is a daily process that gives the opportunity to grow in love and patience towards the dream of seeing your business and clientele grow. Third, to learn not to compare myself to other nail techs, but rather be inspired, encouraged and look to be the best version of myself.
NP: What do you love about your job?
MQ: The clients and friends I've made! I really value the opportunity to listen to the story and life of every woman who I have the pleasure to serve as well. It's beautiful! I have cried, laughed and made great friends through this beautiful profession. Also, the chance to be friends with other nail tech colleagues I haven't met in person. Through social media, we have formed a friendship and have helped each other grow in our business. 
NP: Where do you find inspiration?
MQ: Everything related to nature – its delicacy, colors and textures.
NP: What is a piece of advice you would give other nail technicians who are just getting started?
MQ: Do everything with love! Every client is important, so make them feel unique and special. Also, it is not the end of the world if the nails are not perfect… Just keep practicing! Practice will make you better and better each time, and the most important thing is that your client will always appreciate the effort and hard work you put into their nails. 
NP: What is a tip you have about any technique, service, business, etc.?
MQ: Hygiene is one of the most important elements in my studio. It is very sad to hear from clients who have had bad experiences in other places because the salon was not clean. I have had clients who are afraid to do their nails again because they got an infection from poor hygiene. The hygiene and cleanliness of your studio speak a lot about you.
NP: What is your favorite nail trend right now?
MQ: I love to combine the encapsulated pressed-flowers designs (or floral decals) with the 3D textured designs (like the sweater textured but made floral patterns) and French nails are my favorite trend for ever.
NP: What is your favorite service to offer?
MQ: Definitely the builder gel manicure! I love working on the natural nail. I love seeing the process of a short nail growing long and strong! The builder gel is my star product.
NP: Who is your role model?
MQ: My role models and my greatest inspiration are my parents. From a very young age I saw them work so hard to give us the best. They taught me to be a hard-working woman, that dreams are possible to achieve, and that the greatest success that can be achieved is to bless the lives of others through our work. Their lives challenge me, they have taught me to always get out of my comfort zone, to always do everything with excellence and honesty, to not to be afraid of failure because that makes us grow, and to leave all my dreams and projects in the hands of God. Dad, Mom, thank you for always being there for me.
NP: What is one of your proudest achievements as a nail tech?
MQ: Being able to use the gifts and skills that God has granted me to bless other people's lives is the proudest achievement I can have in my life. I have the beautiful opportunity to serve in a mission organization called Vision Global. Being able to serve on mission trips through this profession, doing manicures for women and girls in shelters, listening to their stories and being able to bring joy and smiles into their lives through a manicure, has been my greatest achievement. 
NP: What do you love about the nail community/industry?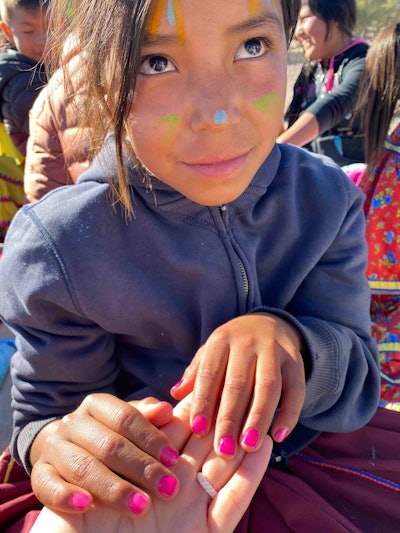 MQ: I'm loving it! I have found relationships, informative material, super interesting articles and many opportunities to grow my business. It is a community full of support! The only thing I would love to see is more material in Spanish and resources in Latin America.
NP: What are your top goals as a nail tech?
MQ: Wow! I have some goals! 
1. Open a nail salon and provide a unique and excellent nail service where each client will feel special and look forward to having some "me-time" along with creating job opportunities for Latina nail techs. 
2.  To have my instructor license. That way, I can teach and train other nail technicians on how to provide top customer service, nail techniques and properly use equipment. 
3. To open an ORG named "Manis for Smiles" and work along Vision Global (mission trips and social outreach organization) with the purpose to sponsor and provide all the equipment needed to create manicures for women on the mission trips.
 Follow Nailpro on Instagram and subscribe to our free daily newsletter to receive the latest news for nail professionals.