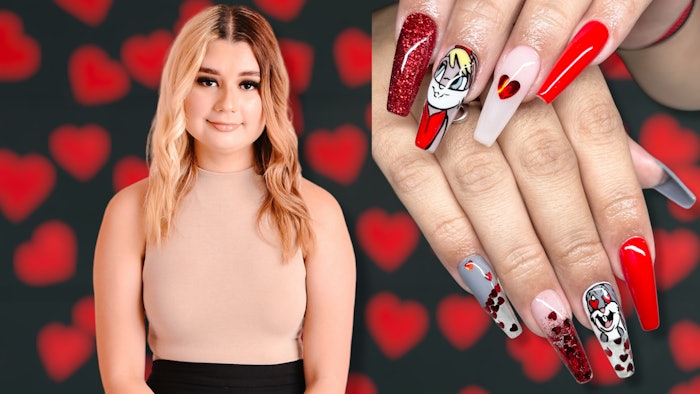 30 Under 30 Spotlight: Joanna Reyes 
Meet Joanna Reyes (@josnailstudio), the owner of Jo's Nail Studio in Houston, Texas.
Read our November/December 2022 digital magazine to see the complete list of 30 Under 30 winners.
Q&A 
Nailpro (NP): Tell me a little bit about yourself! How did you get started, and why did you choose to become a nail tech?
Joanna Reyes (JR): By far, this profession has been the best career decision I've made. I have been fortunate to have been working as a nail tech for five years thus far. My past career experiences include working as an insurance agent for over a decade; however, I knew that the insurance field wouldn't satisfy nor explore my creative mind. I vividly recollect that I used to go to my local nail shop and would pay close attention to every single detail from the tech and what steps they would take into creating nails, which fascinated my inner thoughts. I figured I would take the risk and work on my own nails; however, it wasn't as challenging as I expected to be, which made me fall in love with the profession more and more. So, I began to work as a nail tech on a part-time basis while still working full-time as an insurance agent until I grew my clientele and took a leap of faith by working full-time as nail tech in the most challenging year of my lifetime, 2020. Now, I enjoy working and creating art every day and have never been so happy in my career.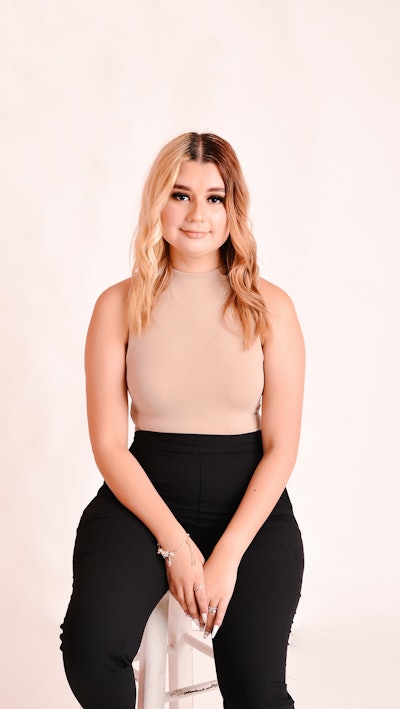 NP: What is the toughest part about your job as a nail technician/nail artist/salon owner?
JR: The toughest part about being a nail technician is being a perfectionist. I don't give up so easily, especially when the odds are against me. I have a will and a vision to succeed and make sure the artistic nails I create go above and beyond my client's expectations. Sometimes theirs and my expectations collide, which takes a toll on my mind. Nevertheless, I will always be filled with happiness as long as my clients are happy.
NP: What do you love about your job?
JR: I have numerous reasons as to why I love my job, and I wish I could name them all, but it would take more than a few pieces of paper. I love becoming a part of my client's life, watching and hearing them grow and prosper – both personally and professionally. I have been blessed to have so many clients – Many of them have become very close friends. Additionally, I love the fact that I am my own boss. If I fail or succeed, that all depends on me and not on the voices of others. I get to be creative while being independent in every aspect of my business. Many times that entails working more than a regular job; however, in the end, that is all very rewarding. Last but not least, I love to see people's cheerful smiles when they leave my chair along with the beautiful nails that, for many of them, will boost their confidence.
NP: Where do you find inspiration? 
JR: Many of my clients bring inspo pictures, and we put our own little spin to it. I always inquire from my clients about if they have a special event going on or are in a mood for a specific color. Based on what they state, I will suggest some ideas that will match their mood.
NP: What is a piece of advice you would give other nail technicians who are just getting started? 
JR: I preached and followed what I call the 3 Ps – practice, patience and perseverance. When starting out as a nail tech, it is very hard to keep pushing through. You might get disappointed because you can't learn a special technique in a timely manner; however, know there is no rush. You might feel discouraged because you are not getting many bookings. That's okay. Your work will speak for itself, so keep practicing, posting and promoting. Everything else will fall into place with patience and perseverance. Believe in yourself and your skills.
NP: What is a tip you have about any technique, service, business, etc.?
JR: A tip I have and would recommend for any nail tech is to always give your 100% when doing nails. Your clients will appreciate you and your effort, and they more than likely will become your loyal clients. If you must re-do a nail, then do it. If you must wipe off a drawing because it doesn't look right, then to do it. This will help in perfecting your art.
NP: What is your favorite nail trend right now?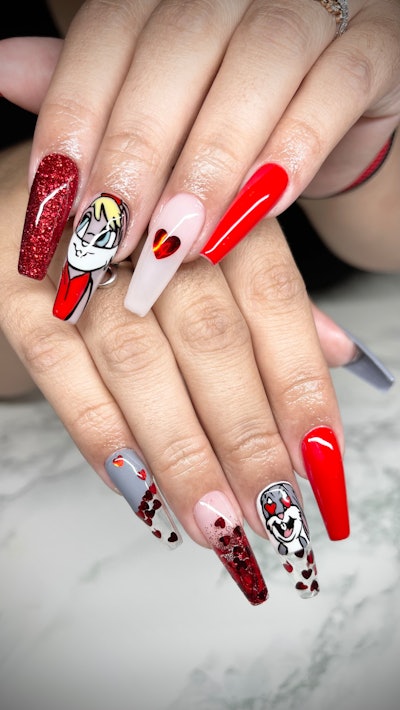 JR: My favorite nail trend right now is the drawing of characters. It's so fun to create mini pieces of art we can rock for a whole four weeks. I also love the French nail tip trend. Anything French tip is my specialty.
NP: What is your favorite service to offer? 
JR: I prefer to only offer two services, both are my favorite. I use Aprés Gel-x system to do full coverage gel nail extension, and I also use Luminary Nail Systems gels to do gel manis on natural nail lengths. I love how practical these two systems are.
NP: Who is your role model? 
JR: I have many role models. Instagram is full of them. Every nail tech who has worked their way up and not given up are all my role models.
NP: What is one of your proudest achievements as a nail tech? 
JR: This Nailpro opportunity is actually one of my proudest moments as a nail tech. I was very honored to be chosen as one of the 30 Under 30. Another proud moment was when I was able to quit my 9am - 5pm job and started venturing into doing nails full time.
NP: What do you love about the nail community/industry? 
JR: I love how creative every nail artist is and how everyone can share knowledge and wisdom amongst each other. The nail industry is always evolving, and I love how it keeps me on my toes and busy learning new techniques.
NP: What are your top goals as a nail tech? 
JR: My top goal as a nail tech is to open a full-function nail salon (store front) with talented nail artists. I would also love to become an educator, so I can share my knowledge with anyone who wishes to learn the nails field.
Follow Nailpro on Instagram and subscribe to our free daily newsletter to receive the latest news for nail professionals.