30 Under 30 Spotlight: Hannah Bae 
Meet Richardson, Texas-based nail artist and HB Nail Lounge Owner Hannah Bae (@nailsby_hannahbae).
Read our November/December 2022 digital magazine to see the complete list of 30 Under 30 winners.
Q&A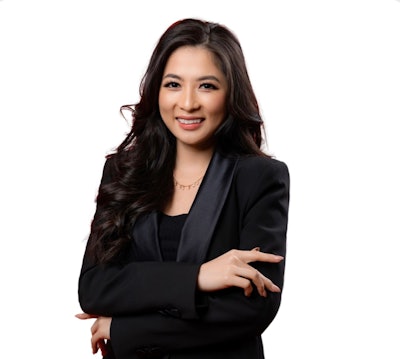 Nailpro (NP): Tell me a little bit about yourself! How did you get started, and why did you choose to become a nail tech?
Hannah Bae (HB): My real name is Hang Nguyen, but I've gone by Hannah Bae as a nickname ever since I became a nail artist. I love arts and dancing. Two years ago, I started doing nails as a part time job, so I could save a little money and pay my tuition fee. Last year, I graduated from college with a teaching degree but didn't feel like being in the office Monday through Friday from 9 a.m.-5 p.m. I love freedom and being able to decide my own schedule. So, I started doing nails full-time. It was flexible. I just fell in love with colors, arts and how creative I can get with nails. I practice every day to improve my skills as much as I can. 
NP: What is the toughest part about your job as a nail technician/nail artist/salon owner?
HB: I think the toughest part about being a nail artist is convincing clients to trust your skills. From the beginning, I was not as good as I am today, so I have to practice and practice a lot in order to make my clients trust me. Also, I was thinking about giving up because it was so stressful when I started. I asked a lot, but nobody answered or showed me how to do it. I'm thankful I did not give up on myself. Also, as a salon owner, I have to make sure all of my employees have good skills to provide the best experience for my clients. 
NP: What do you love about your job? 
HB: Doing nails is like therapy for me. This is so much more than just "pretty nails." I can express myself as a nail artist, playing with colors and my imagination. Also, now I'm teaching my students how to do nails and become successful in their career. I know how difficult it is when you start and no one guides you. That's why I chose to teach and share my knowledge. I love every second of it. Sharing everything I know and watching people happy and succeeding is the best feeling ever. 
NP: Where do you find inspiration?
HB: I watch lots of shows and read fashion and nail magazines. Other nail artists also inspire me. I like to watch and pay attention to every detail when I walk or just hang around with people. The more I see, the better I learn and put it in the nails.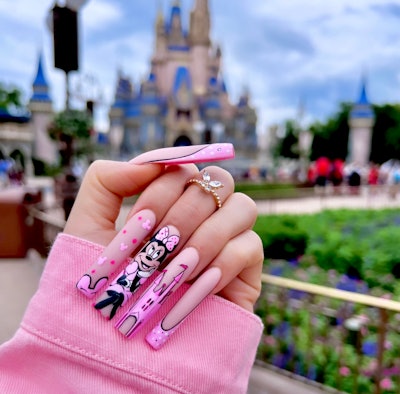 NP: What is a piece of advice you would give other nail technicians who are just getting started?
HB: Believe in yourself. Nobody knows yourself better than you. If you really want it, the whole universe will support you, just believe it.  Also, find one artist or mentor that you love, and follow them.
NP: What is a tip you have about any technique, service, business, etc.?
HB: Don't be afraid to fail. I have failed so many times, but I learn my lesson and do it better every single time. Don't be afraid to ask. I'm always here to help. 
NP: What is your favorite nail trend right now?
HB: I love doing cartoon character painting. It's so much fun and also makes me feel like a child again. 
NP: What is your favorite service to offer?
HB: I love doing acrylic nails - especially long nails and designs. I feel like every design has a different meaning, and it brings joy and happiness to my clients. 
NP: Who is your role model?
HB: In the nail industry, I love Honey Phan – She is a true artist and inspiration. 
NP: What is one of your proudest achievements as a nail tech?
HB: 2022 is the best year for me. I won 1st in a big nail competition and was featured in a magazine. Also, I had a chance to become a nail instructor and share my knowledge with my students. I see them improve everyday, and it makes me so happy and proud of them. 
NP: What do you love about the nail community/industry? 
HB: There is so much love in the nail community. I find everybody is unique in their own way and creates creative, amazing nails. I love seeing so many talented artists. 
NP: What are your top goals as a nail tech?
HB: I want to become a woman that I can look up to. I want to give back to the community. I want to open my own academy, so I can support every woman that wants to start their own business and become successful.
Follow Nailpro on Instagram and subscribe to our free daily newsletter to receive the latest news for nail professionals.