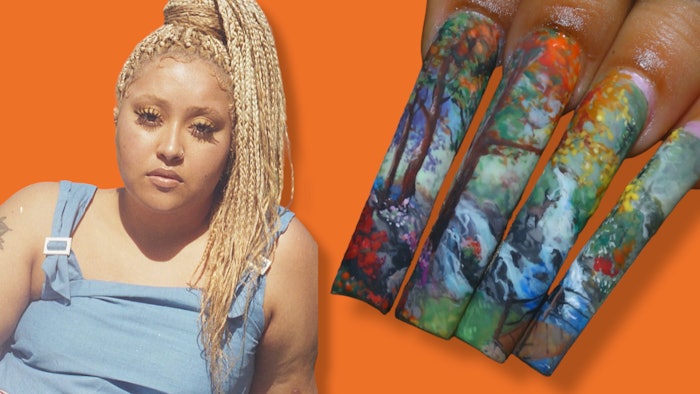 30 Under 30 Spotlight: Eris Ice 
Meet the Georgia-based nail tech and artist for Pamper Nail Gallery, Eris Ice (@artmuva).
Read our November/December 2022 digital magazine to see the complete list of 30 Under 30 winners.
Q&A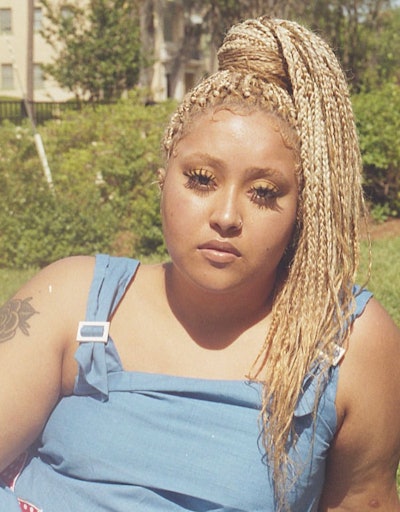 Nailpro (NP): Tell me a little bit about yourself! How did you get started, and why did you choose to become a nail tech?
Eris Ice (EI): I was a painter full-time, and I was commissioned by my nail tech for a painting. After showing her the progression of her painting, I got my nails done, and she asked if I would ever consider trying nails because I was a natural with holding a brush for painting. At the time, I never considered it, but I was looking for a way to be able to create art every day and make a livable wage, so it seemed like it would be a perfect fit. She mentored me for a few weeks, then I went to nail school later on, and the rest is history. 
NP: What is the toughest part about your job as a nail technician/nail artist/salon owner? 
EI: I think the toughest part about my job as a nail artist is having to build thick skin and go through so much troubleshooting to figure out techniques that work well with doing nails.
NP: What do you love about your job? I
EI: I love creating art, and I love my clients. I would never be able to meet so many interesting people without being a nail artist.
NP: Where do you find inspiration? 
EI: I find inspiration in everything. I find it in other artists, nature, emotions, songs, movies, etc. 
NP: What is a piece of advice you would give other nail technicians who are just getting started?
EI: I would tell a new nail technician to never let the bad days last too long and to savor the good days, for as long as you can. 
NP: What is a tip you have about any technique, service, business, etc.? 
EI: My tip in business is to always stay humane. Be humble but also confident in yourself and your artistry, no matter how that may look for you.
NP: What is your favorite nail trend right now? 
EI: My favorite trend right now is 3D nail art.
NP: What is your favorite service to offer? 
EI: My favorite service to offer is high-detailed art.
NP: Who is your role model? 
EI: My role models come in many different forms – other nail artists/artists in general, my mother, my partner and my interpersonal circle.
NP: What is one of your proudest achievements as a nail tech? 
EI: My proudest achievement as a nail tech would be being nominated for this, becoming an ambassador for @nailz_by_dev and whenever I create an art piece that is super tedious and detailed. 
NP: What do you love about the nail community/industry? 
EI: I love the creativity in the nail community.
NP: What are your top goals as a nail tech? 
EI: My top goals as a nail artist is to do editorial, high art nails only. I would also like to share my knowledge as a teacher in the future and maybe even sell some products. 
Follow Nailpro on Instagram and subscribe to our free daily newsletter to receive the latest news for nail professionals.