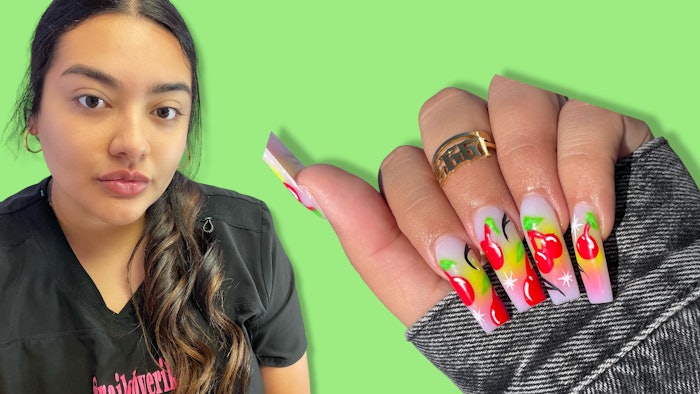 30 Under 30 Spotlight: Erika Salazar 
Meet the Texas-based celebrity nail tech and owner of Nails by Erika P, Erika Salazar (@nailsbyerikap). 
Read our November/December 2022 digital magazine to see the complete list of 30 Under 30 winners.
Q&A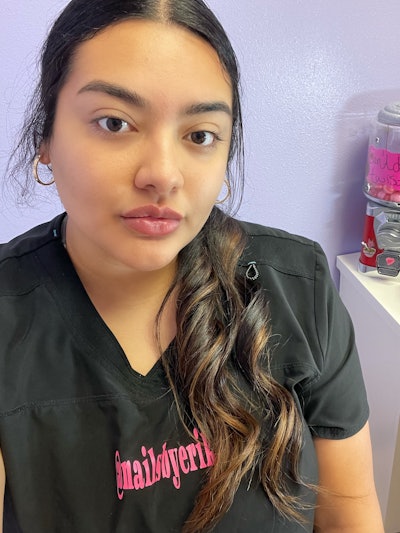 Nailpro (NP): Tell me a little bit about yourself! How did you get started, and why did you choose to become a nail tech?
Erika Salazar (ES): Hi, I'm a nail tech from Laredo, Texas. I started nails at such a young age at only 15. I knew then it was my true passion, nothing makes me happier. What keeps me going is the way nails have no limits as to what your designs can be. I love the face-to-face interactions with my clients just as much as I love knowing people all over the world have my art in a press-on form. 
NP: What is the toughest part about your job as a nail technician/nail artist/salon owner?
ES: The toughest part about being a nail tech is the amount of time you have to invest in your craft, the way you have to keep up with all trends while trying to figure out how to create new ones.
NP: What do you love about your job?
ES: I love everything about nails. Anyone who knows me knows that's literally all I think about. I love the way nails have no limits as to what you can do, and it's amazing! 
NP: Where do you find inspiration?
ES: For me, my inspiration truly comes from anywhere. I love being able to bring any design to life again in a nail form, and add your own twist and ways to it. It's truly the best part! 
NP: What is a piece of advice you would give other nail technicians who are just getting started?
ES: The best advice I can give to any fellow nail tech is to never stop learning. Continue taking courses, classes and training — anything that will help you improve. We can never stop learning. Also, never let your clients leave unhappy; do each set as if it's for the queen herself. 
NP: What is a tip you have about any technique, service, business, etc.?
ES: A tip I can give you for a business owner is POST POST POST!! Social media is something so powerful. Use it to your advantage and get your stuff out there!
NP: What is your favorite nail trend right now?
ES: My favorite nail trend will always be a good French. It's my absolute favorite ever. There's just so many ways you can spice it up. Whether it's swirls or mixed designs, there's truly no limitation. Definitely anything Y2K will always be my favorite.
NP: What is your favorite service to offer?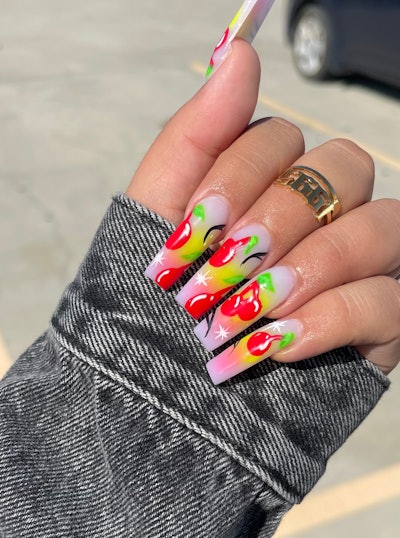 ES: My favorite service to offer is an acrylic full set, tapered square long freestyle. It allows me to have a good canvas to the art that will be applied. 
NP: Who is your role model?
ES: My role model will definitely have to be Avani Gregg. Her hard work and passion that goes into anything she does is truly inspiring.
NP: What is one of your proudest achievements as a nail tech?
ES: My proudest achievement has to be becoming an independent nail artist and opening my own suite.
NP: What do you love about the nail community/industry?
ES: One thing I love about the nail industry is the creativeness that goes into it and the way you will always have a friend with your fellow nail techs.
NP: What are your top goals as a nail tech?
ES: My goal as a nail artist is to continue doing what I'm doing and hopefully open my own salon.
Follow Nailpro on Instagram and subscribe to our free daily newsletter to receive the latest news for nail professionals.