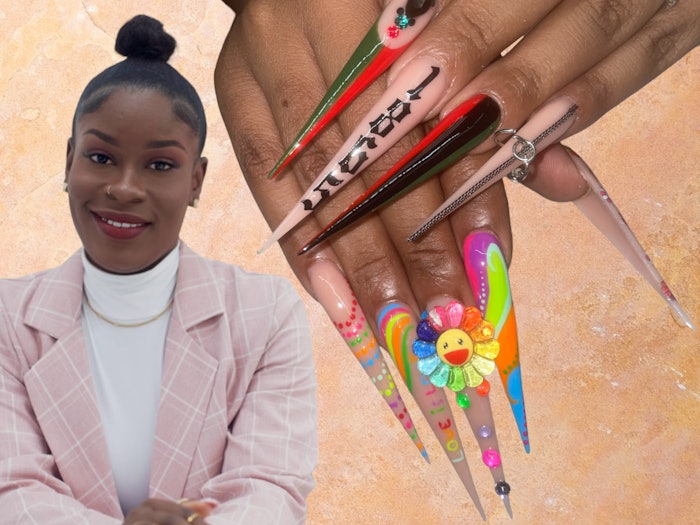 30 Under 30 Spotlight: Elma Oriayo 
Meet Houston, Texas-based nail tech and Bibi's Nail Bar Owner Elma Oriayo (@bibis_nail_bar). 
Read our November/December 2022 digital magazine to see the complete list of 30 Under 30 winners.
Q&A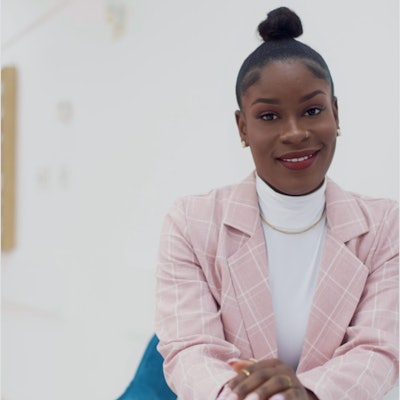 Nailpro (NP): Tell me a little bit about yourself! How did you get started, and why did you choose to become a nail tech? 
Elma Oriayo (EO): My nail journey started four years ago while I was trying to start my craftsmanship. Even though I was still working a regular 9 a.m. - 5 p.m. job, I still wanted something that would bring me extra income. I decided to tap into my love for nails, since I had always done my nails myself and got compliments. I got comments from people asking where I got my nails done, and most people suggested I do it as a business when they found out that I did them myself. I took that and ran with it! I started off in my apartment four years ago, and now I'm a proud owner of a storefront nail salon called 'BIBI's NAIL BAR."
NP: What is the toughest part about your job as a nail technician/nail artist/salon owner?
EO: Honestly, it was not a smooth process, transitioning from my apartment to a storefront. Starting a nail salon requires a lot more than you can imagine. One of the challenges I faced was getting licenses and permits and dealing with contractors and so on. Trying to get more clientele on the nail salon level was also a challenge because I quickly realized that clientele as an independent nail tech is different from that of a nail salon. As an independent nail tech, I could decide how many customers I see in a day, whereas in a nail salon that is not the same since I service more people than I normally would.
NP: What do you love about your job?
EO: I love the look of satisfaction and joy on the face of my clients after doing a set. I also love it when my clients give me room to be creative. It makes the artist in me very happy. 
NP: Where do you find inspiration?
EO: I find inspiration from on-going trends. The nail industry is constantly changing, and you have to change with it, or you would be left behind. I find inspiration from everyday things or holidays, like Pride Month, Black History Month, Valentine's Day, Christmas and so on.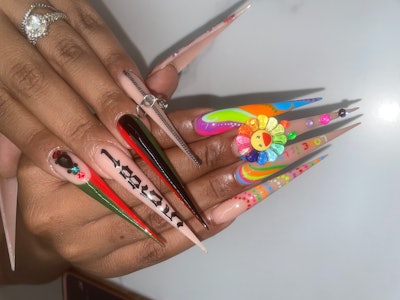 NP: What is a piece of advice you would give other nail technicians who are just getting started?
EO: Do not give up, things take time. Do not compare yourself to other nail technicians. Be yourself, and it will reflect in your work and clientele. Do not stop practicing. There are always new designs and trends that translate into the nail industry. We are always learning. You would not want a client to come with a reference picture, and you are unable to do the design.
NP: What is a tip you have about any technique, service, business, etc.?
EO: Take your time, just as you would with anything you are doing. Do not rush things because that is how you make mistakes. Be patient, not just with your service but also with your business in general, especially if you are just starting out. There are days that are slow and days that are busy, and days you make a lot of money and days you do not make that much. Just take these things with stride and don't be discouraged.
NP: What is your favorite nail trend right now? 
EO: I am really a huge fan of the croc print. I don't know what it is about that design, but it just gives this certain texture and depth to your whole nail. 
NP: What is your favorite service to offer?
EO: I would say pedicures. I have only been doing pedicures for a year now, but, for some weird reason, I actually love doing them, even though I had always said I hated doing feet. 
NP: What is one of your proudest achievements as a nail tech?
EO: Opening my nail salon was one of my proudest moments/achievement as a nail tech
NP: What do you love about the nail community/industry?
EO: I love its versatility – how different people from different backgrounds can be connected by one thing – and the growth and evolution of the industry and how there is always something new and trendy.
NP: What are your top goals as a nail tech?
EO: To eventually be an educator, doing nails on a larger scale and teaching beginners the right/proper way to do nails.
Follow Nailpro on Instagram and subscribe to our free daily newsletter to receive the latest news for nail professionals.