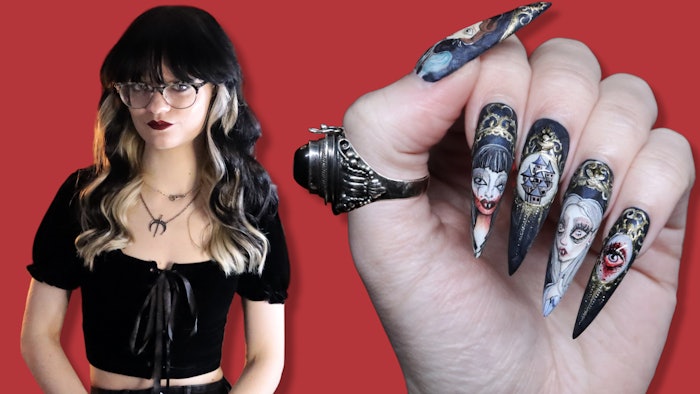 30 Under 30 Spotlight: Colette Gallant 
Meet Texas-based nail tech and Polished by Colette Owner Colette Gallant (@polishedbycolette). 
Read our November/December 2022 digital magazine to see the complete list of 30 Under 30 winners.
Q&A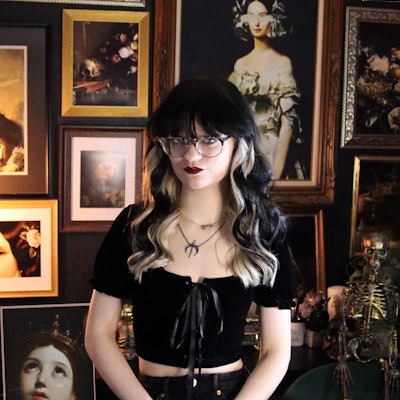 Nailpro (NP): Tell me a little bit about yourself! How did you get started, and why did you choose to become a nail tech?
Colette Gallant (CG): I started doing nails when I was 12 years old, painting very poorly done animal portraits on my nails with bobby-pins as paintbrushes. Over the years my love for creating tiny artwork grew (as did my tiny brush collection thankfully), and I realized this was a viable career path. I'd wanted to pursue nails for a long time, but I didn't have the opportunity to graduate high school. I worked retail for many years until January 2020. I got my GED and enrolled to get my manicurist license. In 2021, I was able to open my private studio, and it's been a whirlwind since then.
NP: What is the toughest part about your job as a nail technician/nail artist/salon owner? 
CG: The toughest part about my job as a nail technician/salon owner is doing everything myself. There's no one to fall back on, and you have to be 'on' all the time, including time when not in the salon. 
NP: What do you love about your job?
CG: What I love about my job is being able to create art everyday and make people happy. Seeing the joy on people's faces when they see their nails is one of my favorite things in the world. I've seen happy tears a few times and it's such an incredible thing to make people happy for a living.
NP: Where do you find inspiration?
CG: I find inspiration everywhere. Fellow artists on social media, and my clients love to bring me inspiration. Me and my clients have a very collaborative relationship, and I book time during our appointment to look through art and create a unique design together. Their ideas make me think of things I never would have thought of on my own. 
NP: What is a piece of advice you would give other nail technicians who are just getting started?
CG: To someone just getting started, I would tell them to find their niche, then market it. If you hate doing French manicures, don't post on your socials the French manicures you do. You'll attract what you show, so find your passion in the industry and advertise that. And, post on social media! I know it's intimidating, but it has entirely changed my, and so many people's, business.
NP: What is a tip you have about any technique, service, business, etc.?
CG: A tip about services is to explain every step to your client and educate them about nails during your appointment. Showing them the value and knowledge you offer will keep them coming back to you.
NP: What is your favorite nail trend right now? 
CG: A nail trend I'm loving right now is 3D sculpted gel! I recently got into it and have been making cat charms, potion bottles, swords and really fun one-of-a-kind charms. 
NP: What is your favorite service to offer?
CG: My favorite service to offer is a natural nail overlay. I love seeing the progress of growing natural nails.
NP: Who is your role model?
CG: Everyone in this industry inspires me as a role model. To have a profession built off of artistry and relationship building is such a difficult role to balance. I have so much respect for everyone who does it everyday. It's an inspiring group to be around. 
NP: What is one of your proudest achievements as a nail tech?
CG: My proudest achievement as a nail tech is being featured in Nailpro Magazine last year with a Halloween how-to (Halloween nails are kind of what I do year-round), and just last month, I closed my books to new clients. It's such a bittersweet feeling to not be able to see more people when they're asking, but I'm so grateful and overwhelmed with the support my clients have shown me. 
NP: What do you love about the nail community/industry?
CG: What I love about the nail community / industry is the fact that it is truly a community. Everyday I talk to so many nail techs, and we all share our opinions, advice, and love for what we do.
NP: What are your top goals as a nail tech?
CG: My top goal as a nail tech is to continue building a platform to educate clients and nail professionals. I feel so passionate about this industry and the incredible amount of hard work, time and money that we put into it. So many clients walking into salons don't see our profession for what it is. Educating clients and nail techs alike to elevate our industry is my ultimate goal as a part of this community.
Follow us on Instagram and subscribe to our free daily newsletter to receive the latest news for nail professionals.