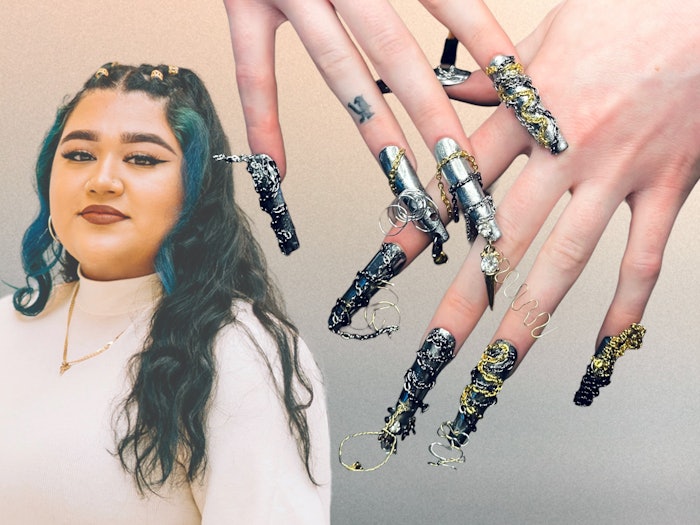 Nailpro 
30 Under 30 Winner Spotlight: Abigail Tovar 
Abigail Tovar (@abigailsviewofbeauty) is an Austin, Texas-based nail tech and owner of Dope Culture.
Read our November/December 2022 digital magazine to see the complete list of 30 Under 30 winners.
Q&A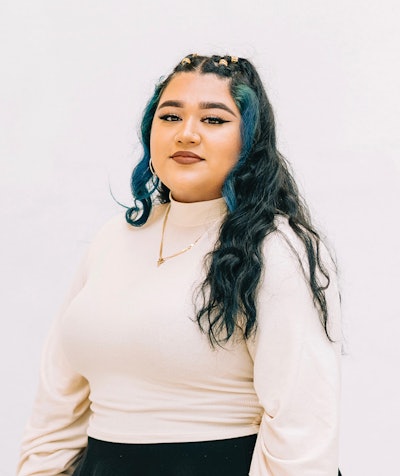 Nailpro (NP): Tell me a little bit about yourself! How did you get started, and why did you choose to become a nail tech?
Abigail Tovar (AT): I've always been into the beauty industry since I was a little girl. From doing hair, designing clothes, working with makeup, etc., I learned that making people feel beautiful is my passion. I started off with hair and makeup, then realized that doing nails made me happier than anything else. Nails are like my tiny canvases. I love painting in my free time, so the fact that I'm able to show my creativity in a variety of ways when it comes to nails is the biggest plus.
NP: What is the toughest part about your job as a nail technician/nail artist/salon owner?
AT: The toughest part about being an independent nail artist is that I never know when to stop working. I'm my worst critic, so I continuously want to be better and sometimes don't give myself the break I deserve.
NP: What do you love about your job?
AT: I love that I can paint art all day and vibe with all my clients while making them feel beautiful. My clients are the best and I love being able to express my vision with them.
NP: Where do you find inspiration? 
AT: I find inspiration anywhere that isn't nails. I want to paint things that aren't already on nails. Let me take inspiration from your sneakers or the coffee shop next door. It's a challenge, but I love it. Looking at everyday things you come across, I want to be able to put it on nails. 
NP: What is a piece of advice you would give other nail technicians who are just getting started?
AT: The one tip I will always tell any nail artist and myself is to never get comfortable in your ways. The nail industry is always growing and new things/techniques are always coming out. To be a better nail artist is to be open-minded and keep yourself on your toes with new things! 
NP: What is a tip you have about any technique, service, business, etc.?
AT: A tip for all the boss babes out there that own your own businesses, don't ever let anyone tell you you can't because you can! Trust me. Always value yourself and your work. Just know that you're improving every single day even if you don't feel like it.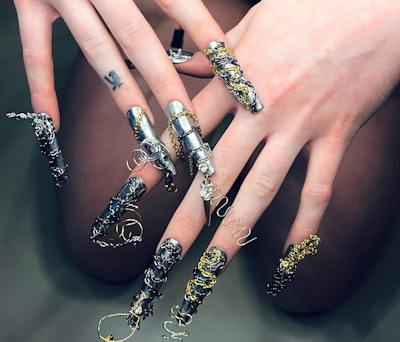 NP: What is your favorite nail trend right now?
AT: My favorite nail trend is the fact that we can put anything and everything on nails with no limitation. It's art. 
NP: What is your favorite service to offer?
AT: My favorite service to offer is hard gel overlays with all the art. Most of my clients have long natural nails with the help of a nice hard gel overlay. 
NP: Who is your role model?
AT: My parents are and will always be my role models. They are the most hardworking people I have ever met, and they're the reason why I'm a workaholic. 
NP: What is one of your proudest achievements as a nail tech?
AT: My proudest achievement is opening Dope Culture with my business partner. I am able to do what I love in the most comfortable environment we have created. Finally being able to make it a reality was a huge "I made it" moment.
NP: What do you love about the nail community/industry?
AT: I am so proud to be part of the nail community. I love that everyone is so supportive, uplifting and big bosses! We are all able to learn from each other and only elevate the industry even more. Everyone is so creative, and it makes me feel comfortable in the environment I am working in.
NP: What are your top goals as a nail tech?
AT: My top goal as a nail tech is being able to be a Latina leader for those who are intimidated and feel like they can't. As a POC woman, I always felt intimidated starting out, as if people around me didn't think that I could do it. I want to set an example to show that my hard work and others will eventually pay off. Success is what you make it. 
Follow us on Instagram and subscribe to our free daily newsletter to receive the latest news for nail professionals.