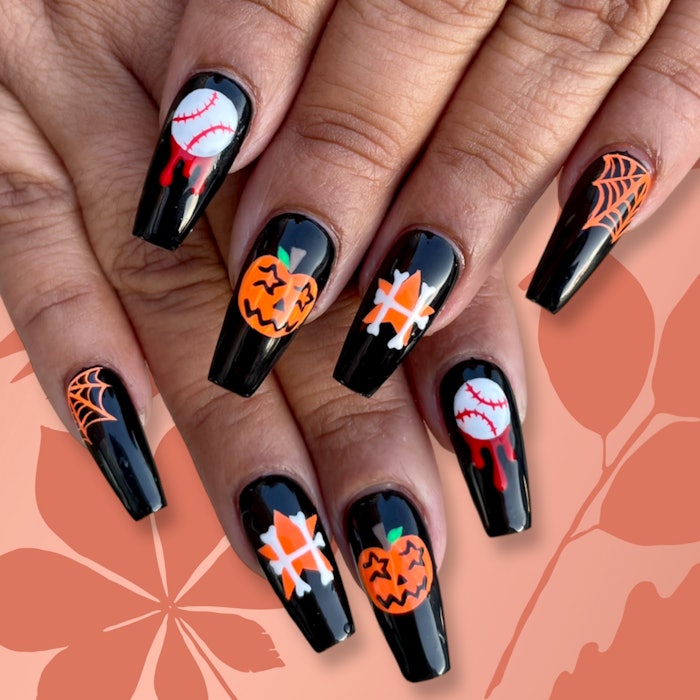 Get your clients championship-ready with this Houston Astros nail art tutorial from a hand-painted nail art specialist
Christie Schobel created this set that combines two October staples—Halloween and postseason baseball. 
GET THE LOOK
1. Apply two thin coats of black gel polish, and cure for 60 seconds per round. Apply a no-wipe top coat, then re-cure.
2. Paint a 5-point star in the center of the nail using white gel polish and a striper brush.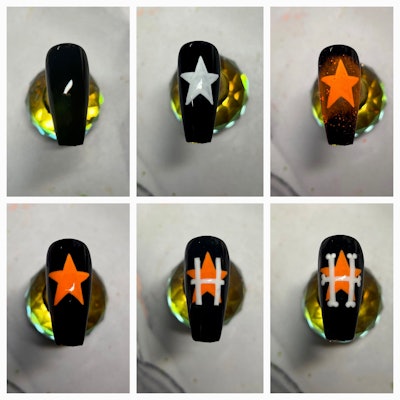 3. Dust the white star with a neon-orange pigment, and brush away any excess pigment.
4. Add another layer of top coat to seal the neon pigment. 
5. Create the 'H' by applying thin lines of white gel polish over the star. Thicken straight lines by applying additional thin lines of color. 
6. Add dots to each end of the 'H' using a dotting tool to create a bone design, then finish the look with top coat.
Use the same general steps to create the pumpkin and spiderweb designs, and feel free to customize the set based on your clients' favorite baseball teams.
About the Artist: Christie Schobel, a self-proclaimed "freestyle queen,"  specializes in hand-painted, over-the-top nail designs. Based in Houston, Texas, she reps her town under the moniker Clutch City Claws.
You can check out more of Schobel's work on Instagram.