Revel Nail has increased its inclusivity with 12 new nude shades.
Dip powder company Revel Nail introduces 12 new nudes to provide nail professionals a wider range of shades to match all clients' skin tones.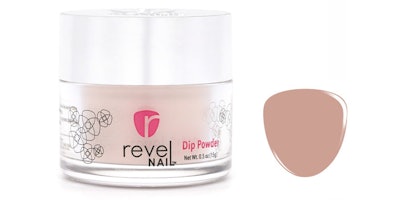 "Inclusivity is very important to us, and it's one of our key priorities for 2021," says Phon Malone, cofounder of Revel Nail. "We're continuously inventing new shades to make sure every skin tone can find a color to complement. We want to ensure nail professionals have the shades to satisfy each and every one of their clients." 
The brand intends to continue expanding inclusivity with a nude shade for every complexion. With more than 300 shades of low-odor, non-toxic dip powders available, professionals now have a variety of dip powders they can offer to their clients for a quick, durable and UV light-free nail service. 
"We're happy to have increased our inclusivity, and we have so much more up our sleeve to make sure every skin tone is represented at Revel Nail," says Reed Sutton, cofounder of Revel Nail. "We're confident our rise in nude shades will be a valuable tool for salon professionals, and we have much more planned for 2021. The upcoming year is going to be very exciting for us." 
Revel Nail has also enhanced its Bare With Me Four Color Starter Kit. Now, nail techs can customize their kit to contain four nudes of their choice!