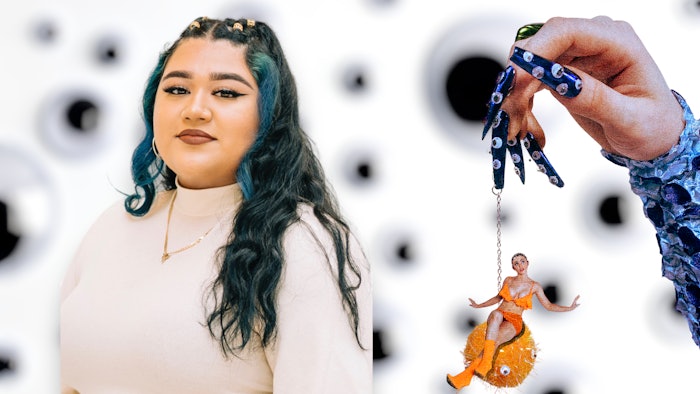 Courtesy of Abigail Tovar
After joining the ranks of Nailpro's 30 Under 30 in 2022, Abigail Tovar (@abigailsviewofbeauty) captured our attention with her creativity and amazing talent.
She was passionate about her craft, and we couldn't wait to highlight her art on our cover. Tovar thought outside of the box along with her photographer and model, and all the the pieces came together for a vibrant, retro cover. But, before we learn about the inspiration and the steps behind the cover, let's learn more about the artist herself.
About The Artist
Abigail Tovar is a passionate Latina nail artist and business owner from Austin, Texas. According to Tovar, her "tight knit family instilled in me the values of hard work, perseverance and dedication, which allowed me to turn my passion for beauty from being a hobby to a full blown career." Tovar always knew she wanted to be in beauty, starting in salons learning the inside outs. After five years in the industry, she is a successful business owner. She and her business partner Lisset are expanding her studio to be a full-service salon.
She wants her new space to be inclusive, noting, "I wanted to create a safe and inclusive space for everyone and use my culture as inspiration in all that I do. One of my favorite parts about what I do is creating unique and intricate artwork that reflects my client's personal styles to make them feel like their most beautiful and confident self. I fully believe that nails are not just an accessory, but a form of self-expression and creativity, which I strive to show that in my work. I feel so blessed to be where I am today in my career. However, I know that it took a lot of hard work and support from my community, family and friends to get here for who I am forever thankful for. I am grateful for the opportunities that have come my way, and I can't wait to see what the future holds for me. I am excited to continue to grow and learn in the beauty industry and continue to make people feel beautiful, one client at a time."
Inspiration
The inspiration on nails and photoshoot was abstract and funky, according to Tovar. She added, "The photographer's work is usually inspired by a lot of 1980s and 1990s fashion editorials, and the model has such great style that she put her own twist to it! I try my best to think outside the box when it comes to editorial shoots, and somehow I came across these googly eyes and a light bulb lit up! It's super abstract and funky! It all came together, and we made art!" 
The Dream Team
Love for Nails
When asked what she loves about doing nails, Tovar responded, "I love what I do because the art limit is endless. There's no shortage of inspiration when it comes to nail design. From simple patterns to intricate designs, there are so many possibilities to explore. I love the challenge of coming up with new ideas and pushing myself to try new techniques. It's a form of self-expression that's unique and always evolving."
Specialty
Tovar specializes in hard gel and hard gel overlays, noting that "hard gel has my heart." It's so rewarding when clients get to their goal length with strong and healthy nails and say "'yup, those are my natural nails!'"