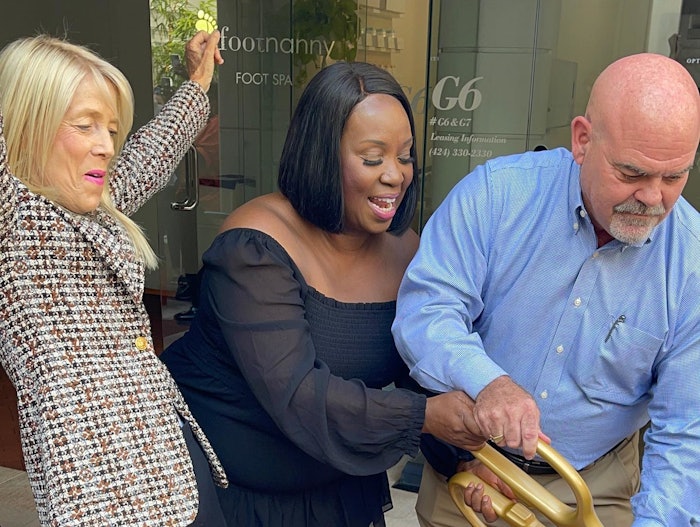 Footnanny founder Gloria Williams welcomed two big names to her new Footnanny Spa in Beverly Hills, California 
The veteran nail technician and Nailpro advisory board member welcomed her first guest–Oprah Winfrey!–to her salon in October.
In an Instagram post, Oprah wrote, "I'm so proud of Gloria ... who started giving me pedicures (and happy feet) in Chicago 20 years ago. She then came to California to start her own business from scratch and is now opening a foot spa on posh Rodeo Drive ... Congratulations sis, I celebrate your vision and perseverance."
The Eucalyptus Sugar Scrub Set from Williams' Bodynanny body care collection recently made Oprah's Favorite Things 2022 List, the ninth Footnanny product included in the annual holiday gift guide. 
The official ribbon-cutting ceremony for Footnanny's Rodeo Drive spa was held on  November 1 with Beverly Hills Mayor Lili Bosse in attendance. Bosse posed in Williams' custom Belava pedicure chair for their photo op, which you can view below.
We congratulate Williams on her continued success! 
Follow us on Instagram and subscribe to our free daily newsletter to receive the latest news for nail professionals.