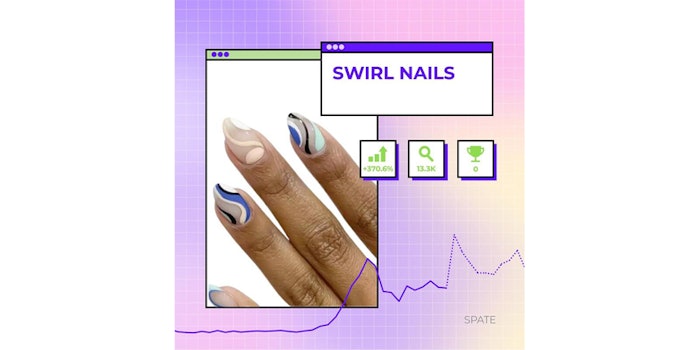 Courtesy of Spate
According to a recent Spate report, swirl nails are making a comeback!
The swirl trend dates back to the '60s and '70s, with all its psychedelic twists and turns.
There is no wrong way to adopt this style, because it features colorful wavy lines uniquely placed on each nail. 
There are 13.3K searches on average every month in the U.S. for swirl nails. It hass grown +370.6% in searches since last year with zero market leaders.  
Related searches include terms like white, blue, pink, black, green, glitter and even marble—revealing that consumers are searching for swirl nails in a variety of colors. Yet, searches for marble nails are down -2.7% YoY, revealing a shift in the way consumers are searching for this nail look. 
This trend is unique and completely customizable, making it perfect for those who want to be individuals but still "in the know".