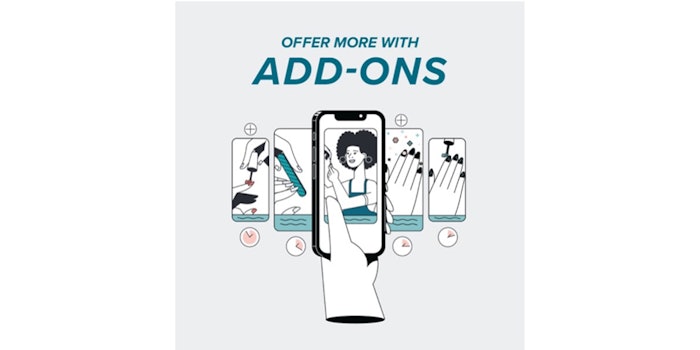 Courtesy of Booksy
Booksy has launched an Add-ons feature to its app to offer users another way to grow their businesses.
Booksy is a leading booking and business technology for the beauty industry.
This new feature allows service providers to showcase additional, customizable options to customers.
Add-ons are booked with an existing service to create a more unique experience. For example, customers can add nail art or gel polish to a manicure or opt to use premium products during a shampoo or hot stones during a massage. 
The Add-ons allow providers to upsell services, increase revenue and deliver added value to end customers. With them, the weekly average appointment value increased by over 70% for Booksy service providers. 
"I am so happy with the new Add-ons feature, and my business has significantly grown since I started using it. I specialize in body waxing, and in the past, my clients would normally book one service through Booksy. I have experienced a huge increase with people booking additional services regularly and my revenue has absolutely increased as a result. People simply did not know all the options available to them and now those options and Add-ons are highlighted at the time of booking. The Add-ons feature has truly simplified the upsell process, saved me time and benefited my business in so many ways. I highly recommend it," said Jess Oehler, owner of Ritual Wax Studio in San Antonio, Texas.