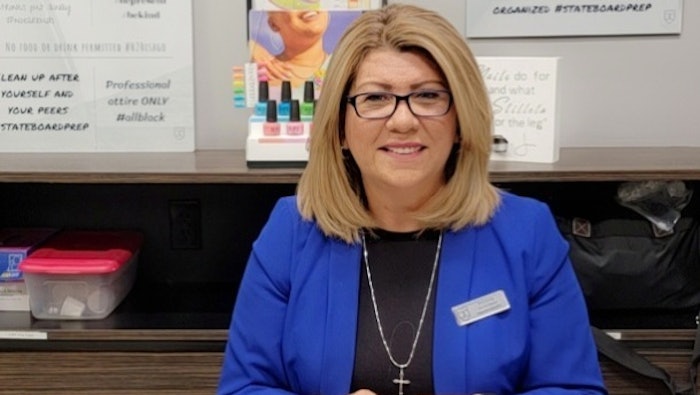 Courtesy of Irma Lieras
Wife, military spouse, world traveler and nail educator—holding a license to do nails has helped Irma Lieras serve all of these roles. As her life has opened up doors to travel across oceans and the U.S, Irma's nail license is one piece of baggage she has packed up for every leg of her journey.
In observance of Military Appreciation Month, Nailpro caught up with Irma to learn how this industry veteran joined the rank and file of nail pros and how she even recruited her husband to serve in the beauty corps!
How did you land on a career in the nail community?
I have been doing nails for 31 years, but I did not discover this business on my own. My mom is a cosmetologist, and she had some influence. I always imagined I would work in an insurance agency. Even when I married at age 18 and followed my husband to a base in Germany, I thought I would pursue a career in business. My mom was a salon owner, and one day she said, "Look, one day, this business will be yours. Why don't you become a nail tech?" That was 31 years ago, so my mom was onto something. And I found my own passion lies in teaching the technique and business of nails.
Do you have a favorite student you coached?
My husband! He served in the Army for 20 years before retiring in 2004. After completing his military service, he used his VA grant to attend barbering school. And one night, while we were eating dinner, he asked what I thought about him enrolling in my nail class. My first response was, "No." But he signed up for the course anyway!
What was it like to be your husband's teacher?
It was challenging, because as a teacher, I had to think about a way to present the material that he could relate to. He kept calling the zebra file a sander, so I decided to use terms that related to tools. I described applying nail lacquer as laying down cement. And when it came to teach nail buffing, I likened it to shining the floors. When painting the edges of nails, I equated it to painting the corners in a ceiling. Using the right terminology made it come together for him.
How has your role as a military spouse influenced your career?
The privilege of serving military wives and active service women opened my mind to how much of a difference a simple manicure can make in a person's life. When my husband and I were stationed in Germany, I would have women come in who had literally been conducting drill exercises where they were crawling through the dirt for days on end. Taking time for self-care allowed them to feel like a woman again. I always encouraged other military wives to enroll in a nail program while they were living on base. The program can be completed so quickly, and a license provides flexibility to be your own boss.
Do you see any similarities between military life and teaching nails?
At Bellus Academy, there is lot of similarity. Sure, we are located in San Diego County, which has a huge military presence. But it is about the discipline that we have here on campus. There are values, structure and discipline that underlie our culture. And as a teacher, I am "old school" and have strict expectations when it comes to my "family" of students. That sense of discipline and hard work to achieve success is part of the program from day one. And I fully confess that I have had a few students who call me their "drill master!"
How has the nail industry evolved over the past three decades since you started?
Two words: social media! Instagram is the great equalizer, giving everyone a platform to put their work out there for free.
How has social media helped your students discover their career path?
Social media combined with students' enthusiasm has opened up doors of opportunities. Many of my former students are doing amazing things—from owning their own suites to doing nails for New York fashion shows and Hollywood videos.
What are the qualities that make for a long and rewarding careers?
You have to have a passion for what you do—whether it is doing nails or teaching nails. And believing in yourself is also important. Find a mentor who can coach you along.