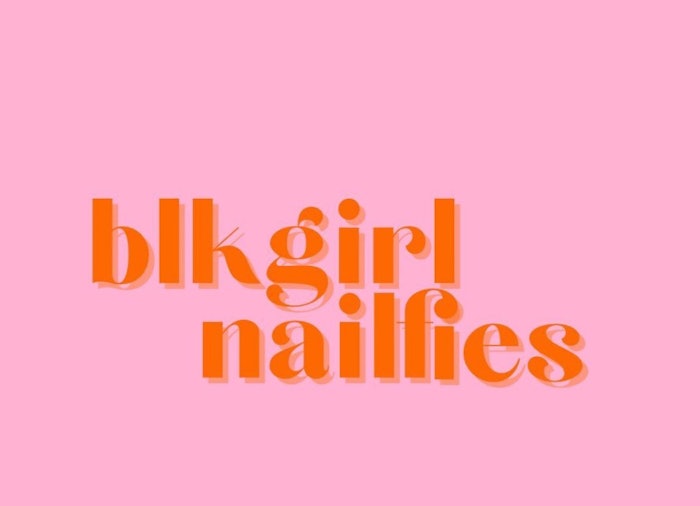 Three young nail-obsessed Black women from Atlanta and D.C. launched an Instagram page: @BlkGirlNailfies.
Founders Hana Javelle, Imani Aldridge and Tyra A. Seals are not influencers or content creators.
Aldridge is a product photographer for beauty brands, Javelle is a full-time publicist and project manager, and Seals is an art history Ph.D. student who runs her own editorial agency. But each woman loves manicures, and they're each known amongst their personal circles for posting their own nailfies—shots of one's nails from their own POV—on a regular basis.
The page is dedicated to Black nail art, a digital space that is specifically committed to creating a community for Black women, by Black women.
The account's budding following proves that this type of celebration is something Black nail lovers have been yearning for. The account was born out of a passion and deep reverence for nail art from three friends. Yet, its conception came by chance.
"I was doing what I do before every nail appointment," Javelle said. "I was looking through all of my photos and going through people that I follow [on Instagram] for nails. And I was like, it would be really nice if I could make a centralized place other than my photo album to find inspo. I just literally blurted [that] out on my Instagram story. And then Imani hit me up."
This celebration is necessary—nail art is a form of expression that holds a special, storied cultural significance within the Black community, most notably when it comes to nail extensions.
In a world of whitewashed Pinterest nail boards and Instagram #nailinspo searches, the very existence of spaces like #BlkGirlNailfies rejects the erasure of Black women, past and present, in nail art culture.
"We want BlkGirlNailfies to be a page where Black women can go [to] find inspiration for their nails and see it on hands that look like theirs," said Aldridge. "[We] also want it to be a resource, as far as learning about caring for your nails, and eventually we plan to get to a place where we can have a directory for Black-owned nail salons and Black nail techs."