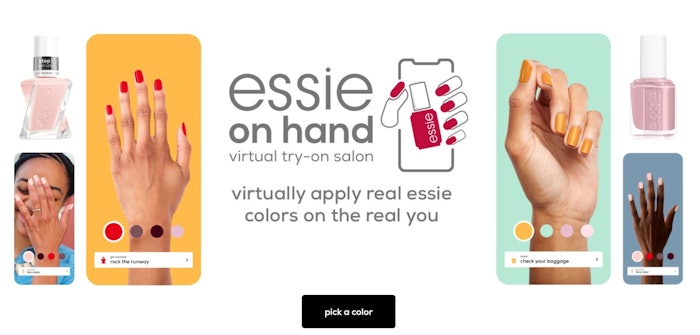 "ModiFace has been the leader in beauty tech for over a decade, and thanks to a close partnership with the essie team, we have again been able to push our artificial intelligence and augmented reality technologies to new heights. we are excited to continue collaborating with essie on reinventing the nail industry," says Jeff Houghton, ModiFace chief operating officer.
This web-based tool is the first to utilize primary camera technology where virtual nail polish appears seamlessly on the user's hand, tracking nail shape and movement of fingers through the back-facing camera. The precise AR application and color depiction allow users to see the real essie shade on them.
This tool can be used to test essie products on clients who are unsure of what shade to use on their manicure.
How it works:
Apply the high-shine topcoat
Choose the try-on options: live camera, upload a photo or use the readily available model hands and select a skin tone filter + nail shape
"essie designs and creates all of our products with impeccable nuanced color and precise and easy application," says Carolyn Holba, general manager for essie worldwide. "Our new essie on hand virtual try-on salon is no different! it's the highest standard in nail try-on services to make discovering essie colors fun, easy and accessible."