Celina Rydén and Moonflair Nails are releasing three new products, each designed to spark your creativity and encourage self-care.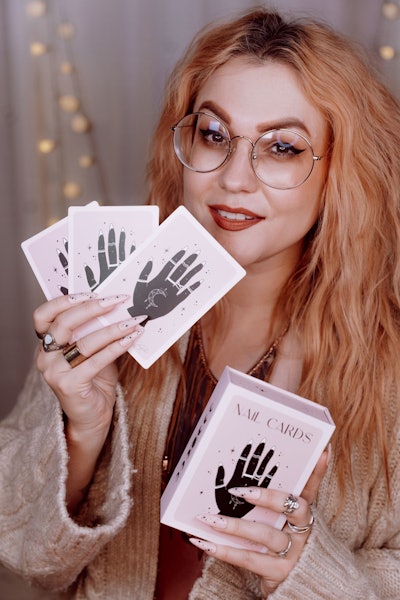 Rydén designed each of the products herself. 
My Nail Planner is designed to help nail techs and enthusiasts find their balance between work and self-care. In the planner, Rydén shares her best business tips, advice on how to break up with clients, morning ritual tips and yoga and stretch poses you can perform at work. She also delves into the importance of taking breaks, having lunch and scheduling self-care time.
The My Nail Designs book can help you explore your creativity and gather all your nail designs in one place. The book includes a multitude of nail art tips, as well as advice from Rydén on finding inspiration and how to determine pricing for your nail art. 
The Nail Cards deck will spark your creativity as it challenges you to try new nail designs. Each deck includes 20 color cards, 20 word cards, 20 element cards, four shape cards and three accent cards. Together, they'll help you create a unique nail set every time! Rydén designed and drew the cards, which feature her signature bohemian style. 
The My Nail Planner includes a website link and a password to acces exclusive material, like morning yoga and ritual videos, breathing exercises and other fun bonuses to help you become more in-tune with yourself.
All three items will be available with worldwide shipping November 1 at moonflair.shop. 
About the Artist: Celina Rydén is a world-renowned nail artist from Stockholm, Sweden. Rydén travels the world teaching nail classes, runs a Swedish nail podcast and is the CEO of two companies. She runs "My Nail Academy,"" an online nail education platform, and moonflair.shop. She launched her own crystals line in 2021. 
All images courtesy of @epicphotos.se
Follow us on Instagram and subscribe to our free daily newsletter to receive the latest news for nail professionals.