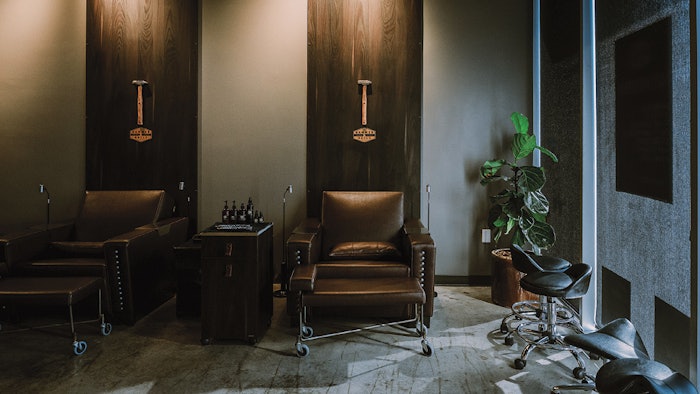 Upon graduating college from Indiana University, I [Fes] took a job in the music industry at an entertainment talent agency. From there, I took my skill set to music management and spent approximately five years working in the entertainment space. After doing some soul searching while considering my future over the next 10 years, I decided I would need to dissolve myself from music and go off in a different direction. My mother and business partner, Kris, was a key component in making this venture come together. We worked together to determine my next steps and a decision was made to go out and start our own business. After visiting with many different franchises, we fell in love with the Hammer & Nails brand and decided to move forward with the purchase of the West Hollywood location, which was owned by corporate at the time. This life-changing decision has inspired me to make our shop the top location, and I will stop at nothing to succeed at my goals.
The Look
Hammer & Nails is the premier destination for men's grooming and is a place where every customer receives the royal treatment. Our barbering room is complete with five stations featuring personalized TV screens for each customer. Our hand and foot room for manicures and pedicures include oversized leather chairs, personalized flat-screen TVs, noise-cancelling headphones, a personal iPad and a dimly lit atmosphere that leave customers relaxed and rejuvenated. We also offer a complimentary beverage with each service, whether that is a favorite whiskey, a cold beer or a refreshing soda. Our barbershop is a place to elevate one's grooming experience.
Signature Services
Our barbershop specializes in all-natural hand and foot care and offers a wide range of services. One of our specialties consists of aromatherapy with a lemon- and peppermint-infused premium manicure and pedicure. The combination includes a warm soak, callus resurfacing, sugar scrub, massage, nail care, warm paraffin wax and a hot towel wrap. One of our other customer favorites is the Sports Pedicure, which alternates between a series of hot and cold treatments to promote circulation and ease sore muscles. This service also includes hot-stone massage. What makes our shop special is the opportunity to join our exclusive grooming club. In doing so, our clients pay a monthly amount to receive a certain number of service credits to redeem at a discounted rate. These credits roll over and can be shared. Best of all, there is no contract, and it can be canceled at any time.
To learn more about Hammer & Nails West Hollywood, check out Nailpro's June 2022 digital magazine.