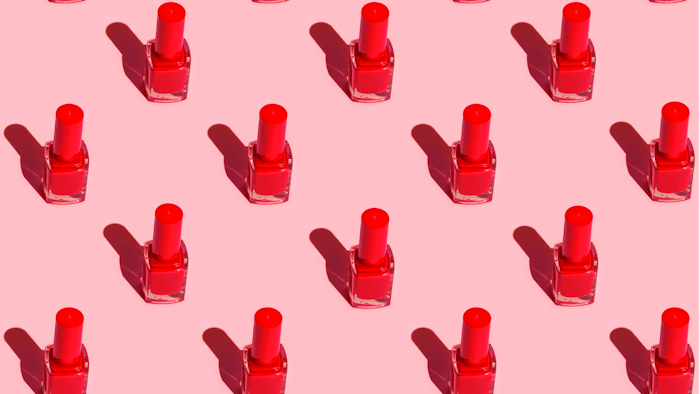 Grab your nail bestie and get ready to celebrate: National Nail Polish Day is June 1, 2022.
Kickstarted by essie in 2017, the holiday is meant to spread the lacquer love and give your clients the opportunity to rock a killer mani.
In honor of National Nail Polish Day, we have rounded up five facts about nail polish that will have everyone at the salon talking.
1. The world's most expensive bottle of nail polish was $267,280
In 2015, Selfridges in London retailed a bottle of Azature nail polish for a whopping $267,280. According to an article on genesisdiamonds.net, the nail polish contained 267 carats of black diamonds.
2. The world's longest manicure bar was 155 feet long with 50 nail pros
On October 21, 2017, OPI set a Guinness World Record for The World's Longest Manicure Bar. Located by the famous 3rd Street Promenade shopping area in Santa Monica, California, the 155-foot manicure table helped service more than 500 manicures in a single day.
3. essie has produced more than 900 nail polish shades
The originators of National Nail Polish Day certainly know a thing or two about creating colorful polishes. According to an editorialist.com article, essie debuted with 12 classic nail colors and has since ballooned its polish portfolio to more than 900.
4. The first nail polishes were made of beeswax, egg whites, gelatin, natural gums and flowers
Nail polish has been around for centuries. In her article "The History of Nail Polish" written for Nailpro in January of 2022, Vivian Valenty, Ph.D., states that "the earliest instance of colored nails was in 3200 B.C. when males in Babylon dyed their nails with kohl before going into battle. During 3000 B.C., the Chinese and Egyptians used beeswax, egg whites, gelatin, natural gums and flowers to make nail colors. Around 600 B.C., the lower class in China was sentenced to death for wearing nail polish, while the royal echelons preferred metallic, gold and silver. Henna was used in Egypt, as evidenced by the mummified pharaohs."
5. Manicure robots are making their way into salons
Valenty also described the influx of "manicure robots" that are being used in response to a shortage of professional nail technicians; however, she added that "no machine will ever replicate our many human innovators and artists' pure passion, vision or talents."